Back to Main
Four Seasons Hotel London at Ten Trinity Square
10 Trinity Square, London, EC3N 4AJ, England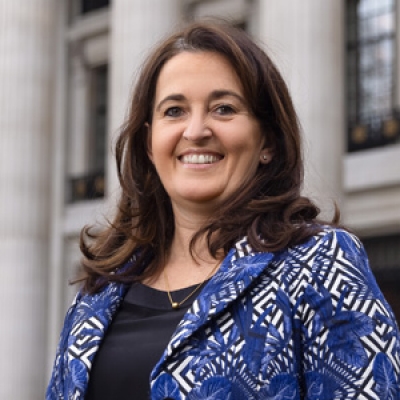 Marie-Laure Fleury
General Manager
Four Seasons Tenure
Since 2017
First Four Seasons Assignment: Hotel Manager, Four Seasons Hotel Tunis
Employment History
Four Seasons Hotel Sydney; Four Seasons Hotel Tunis; Shangri-La Tanjung Aru Resort & Spa; Mactan Island Shangri-La Resort & Spa; Boathouse, Phuket; Trisara, Phuket; The Sukhothai Hotel, Bangkok; Peninsula Properties and Clubs - The Repulse Bay Hong Kong, Head Office Hong Kong and Shanghai; G's Club Shanghai and Forty-One Hengshan Road, InterContinental Grand Stanford Harbour View, Hong Kong; The Bostonian, Hong Kong Renaissance Hotel
Birthplace
Education
Bachelor of Science in Hotel and Restaurant Management, Lausanne Hotel School, Switzerland
Languages
French, English, Spanish, Mandarin
Marie-Laure Fleury is General Manager of Four Seasons Hotel London at Ten Trinity Square, a historic grade-II listed property. Following a long career in hospitality, Marie made her move with Four Seasons to oversee the Hotel, Residences and Private Member's Club at Ten Trinity Square.
French-born Marie began her career in food and beverage in China and spent a number of years working in different hotels across Asia before accepting her first role with Four Seasons Hotels and Resorts in 2017, when she joined the company as pre-opening and opening Hotel Manager of Four Seasons Hotel Tunis.
Marie has always enjoyed a challenge, successfully opening theHhotel and leading the team at Tunis for three years before being appointed to her most recent role in Sydney – closer to home for her Australian husband. Change of scenery has been a constant throughout Marie's hotel career. From Hong Kong to Bangkok, Phuket to Malaysia, Tunis to Sydney, she has held executive-level positions in multiple countries, fuelling a passion for travel and culture, rooted by her love for the hospitality industry.
Her third appointment with Four Seasons at the historic Ten Trinity Square in London has been an exciting move for Marie and her family. "London is a diverse city and has a lot to offer in terms of hotels and restaurants. It's a great time to move to the city and I'm enjoying getting to know the local area surrounding Ten Trinity Square." 
"I look forward to continuing to work with the team to continue to evolve and show that we are passionate about delivering the best possible experience for our guests."
With three restaurant outlets, a Private Members' Club with its own dining facilities, and a busy catering and events department, Marie has also been able to put her background and experience in food and beverage to good use.
Outside of work, Marie maintains her sense of balance spending time with her family. An avid trail walker, she enjoys the physical, mental and emotional challenge of courses covering various terrains, inclines, difficulty levels and distances up to 100 kilometres. "The reward comes not only from a sense of personal achievement, but from being part of a team and close to nature while traversing different environments," comments Marie. It's not dissimilar to the rewards she enjoys as a General Manager – working alongside a diverse team in an ever-changing environment.
Though she enjoyed many years of travelling and living in Asia and Australia, Marie is putting down roots in London – discovering new restaurants and exploring the city with her husband and two children.