Back to Main
Four Seasons Resort and Residences at The Pearl-Qatar
Porto Arabia Drive 127, PO Box 16277, The Pearl-Qatar, Doha, Qatar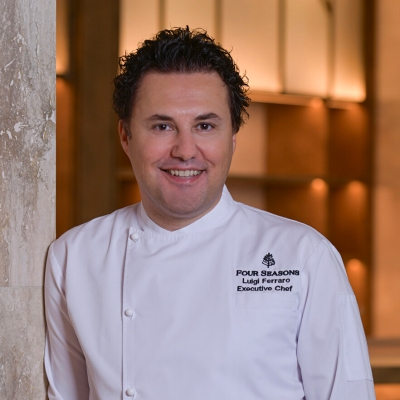 Luigi Ferraro
Executive Chef
Four Seasons Tenure
Since 2020
First Four Seasons Assignment: Executive Sous Chef – Four Seasons Hotel Doha
Employment History
Four Seasons Hotel Cairo at The First Residence; Four Seasons Hotel Doha; Intercontinental Muscat; Intercontinental Regency Hotel Bahrain; Shangri-La Bangkok; Shangri-La Mauritius; Shangri-La Muscat; Shangri-La New Delhi; The Calvados Moscow
Awards and Accolades
Gold medal – International Kremlin Culinaru Cup – Moscow 2013
The Ghotha of Taste – Monte Carlo 2014
Italian Professionalism Award in the world – Monte Carlo 2014
Calabria Award in the World - Rome 2015
Disciples Escoffier International – Rome 2015
Stars of the South Award – Cosenza 2015
Appointed Ambassador of good Calabria at the table - Expo Milano 2015
Italian Hospitality best Italian restaurants in India – Mumbai 2016
Top Chef Awards India – New Delhi 2016
Rotary International Award - The City of the Sun 2017
FACT Bahrain Awards 2019 – Best International ADD Restaurant
Birthplace
Languages Spoken
Chef Luigi Ferraro's passion for gastronomy is immaculate and boundless. Originally from Calabria in southern Italy, Luigi graduated in culinary and hotel management in 2001, but his journey in the kitchen began in 1995. It's been a voyage of almost 30 years of expertise in the field, which started at renowned Michelin star restaurants and luxury properties across Italy. A few years later, Chef Luigi's desire to expand his culinary knowledge motivated him to pursue an international career. His first overseas experience was in Sharm El Sheikh in 2003, which served as the beginning of a long intercontinental journey that took him to places like London, Berlin, Bangkok, and Cayman Islands.
In 2010 Luigi received his first assignment as chef de cuisine at The Calvados restaurant in Moscow, a fine dining venue showcasing French and Italian cuisine. A year after, he was promoted to executive restaurant chef and was given the responsibility of running the San Marco Italian restaurant.  Luigi stayed in Russia for five years and then moved to India at Shangri-La in New Delhi, where he was part of the pre-opening team and opened two outlets, Sorrento Restaurant and Grappa Bar, and he was also involved in the new opening of the Caprese restaurant in the Shangri-La Bangalore. After successfully completing his tenure in India, Ferraro moved to the Shangri-La Muscat as executive sous chef. Soon after, he decided to gain a new experience with IHG Group and relocated to Bahrain as acting executive chef at the Intercontinental Regency Hotel.
In January 2020, Chef Luigi realized his dream of joining the Four Seasons family, with his first assignment at Four Seasons Hotel Doha. Two years after he moved to Egypt as Acting Executive Chef at Four Seasons Hotel Cairo at The First Residence. Now, he's back in Qatar Executive Chef, managing a passionate and talented team who are working towards creating an exceptional dinning destination.
Luigi appreciates the right value of modern techniques and considers quality his main key. He believes that the understanding and execution of different cooking procedures are crucial, and each detail, from decoration to flavours, needs to embody aesthetic and precision. For him the kitchen is an "ideal cultural space" where he can design and experiment, and his imagination is free to fly; as he says, "Everything is renewable and can be shaped." His cuisine is a fusion of his traditional roots and the exotic flavours from the lands where he has been living and working.
Luigi has been a co-author on six editorial projects and is the author of a book totally dedicated to his home region of Calabria, shown at Expo Milan 2015.