Back to Main
Four Seasons Resort and Residences at The Pearl-Qatar
Porto Arabia Drive 127, PO Box 16277, The Pearl-Qatar, Doha, Qatar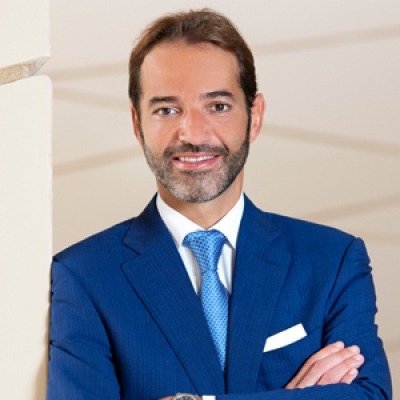 Mehdi Zaanoun
General Manager
"We're inspiring our guests with luxurious beachfront living experiences in this sophisticated and modern destination – with everything from vibrant shopping and dining to nearby museums and family attractions."
Four Seasons Tenure
First hired 2002; now since 2018
First Four Seasons Assignment: Internship - bartender, Four Seasons Hotel George V, Paris
Employment History
Four Seasons Hotel Casablanca; Hilton Hotels, including Hilton Paris Charles de Gaulle; Kempinski Hotel Mall of the Emirates, Dubai; Kempinski Nile Hotel; Trianon Palace Versailles, a Waldorf Astoria Hotel; Four Seasons Hotel George V, Paris
Birthplace
Education
Bachelor's degree in Hospitality Management from the École Hôtelière de Lausanne, Switzerland
Languages Spoken
English, French, Spanish, Arabic

Mehdi Zaanoun has always loved hotels and resorts, and now, as General Manager of Four Seasons Resort and Residences at The Pearl-Qatar, he's bringing that service-oriented lifestyle to a unique residential setting. This dynamic beachfront address offers a new level of resort-style luxury living in one of Doha's most prestigious locations.
Situated on a secluded beach and surrounded by elegant gardens and pools, the 19-storey building is positioned as one of the city's most desirable destinations for short- and long-term stays – perfect for vacations or business travel. Guests can choose from 161 fully furnished apartments and residences, ranging from studios to four-bedroom penthouses and including full kitchens, laundry, expansive living areas and outdoor terraces. Designed by Wimberly Interiors, the décor is timeless, glamorous and eclectic. In addition, 84 Private Residences are available for purchase by those who wish to make Four Seasons part of their daily lifestyle.
As Mehdi explains, "At Four Seasons Resort and Residences at The Pearl-Qatar, we offer our guests and residents the opportunity to be part of a friendly upscale community, sharing incredible on-site amenities and enjoying the intuitive service for which Four Seasons is world-renowned."
The location within The Pearl-Qatar is also a major advantage. This island sanctuary, created on a former pearl-diving site, is now a wonder of modern architecture and a dynamic urban community. "Doha today is a sophisticated and modern destination, blending culture and tradition. At Four Seasons, we're inspiring our guests with luxurious beachfront living experiences – with everything from vibrant shopping and dining to nearby museums and family attractions."
For Mehdi, it all comes back to his commitment to providing service excellence. "I've always been attracted by the luxury hospitality world and charmed by the magic around employees' and guests' interaction. I enjoy welcoming people from all over the world and providing genuine personal care. In a hotel, there's always the opportunity to learn something new."
Inspired by his lifelong interest in travel and hotels, Mehdi attended the prestigious École Hôtelière de Lausanne, Switzerland, and received a Bachelor of Science in Hospitality Management. He's come a long way since launching his career as an intern behind a cocktail bar at Four Seasons Hotel George V, Paris.
He then took a 14-year detour that saw him advance in management through food and beverage with various international hotel groups in France, the Americas and the Middle East. Mehdi finally returned to the Four Seasons family in January 2018 as General Manager at Four Seasons Hotel Casablanca.
"I'm very excited to be leading this unique property in Doha, where we're blending the best of resort and residential living," says Mehdi. "With longer-term stays, we're able to get to know our guests even better, allowing us to provide the most intuitive and personalized service."
Mehdi and his wife, Tamara, along with their three children, have been pleased to embark on their Qatari adventure. The family enjoys taking in historical sites, exploring cultural destinations, and cheering for sports together, as time allows. Mehdi still has the travel bug and loves to discover new cities.
With Mehdi's experience and leadership, he and his team are establishing Four Seasons Resort and Residences at The Pearl-Qatar as one of Doha's most desirable addresses.