Back to Main
Four Seasons Resort and Residences at The Pearl-Qatar
Porto Arabia Drive 127, PO Box 16277, The Pearl-Qatar, Doha, Qatar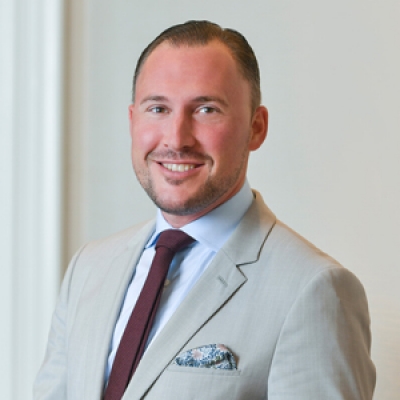 Sebastien Braun
Director of Food and Beverage
"We're creating the premier dining destination in The Pearl-Qatar community – building on the culinary reputation of Four Seasons here in Doha and at our properties around the globe."
Four Seasons Tenure
Since 2017
First Four Seasons Assignment: Four Seasons Hotel Tunis
Employment History
Four Seasons Hotel Alexandria; Four Seasons Hotel Tunis; Dubai Creek Golf and Yacht Club; One & Only Royal Mirage, Dubai

Education
Bachelor's degree from the International College of Hotel Management (ICHM) in Adelaide, Australia; graduate of Les Roches International School of Hotel Management in Crans-Montana, Switzerland
Birthplace
Strasbourg (Alsace), France
Languages Spoken
English, French and German
As Director of Food and Beverage, Sebastien Braun combines international expertise and sophistication to elevate the dining scene at Four Seasons Resort and Residences at The Pearl-Qatar. Sebastien brings with him 20 years of food and beverage experience in both pre-opening and established hotels, including nine countries in Europe, the Middle East and North Africa. He's the perfect person to lead this major new dining destination in Doha.
A native of France, Sebastien spent his formative educational years in Strasbourg in the historic Alsace region. He later graduated from Les Roches International School of Hotel Management in Crans-Montana, Switzerland, and holds a bachelor's degree from the International College of Hotel Management (ICHM) in Adelaide, Australia.
He started his career in Geneva in 2001, then moved to the UK to open various hotel restaurants, eventually becoming assistant D\director of food and beverage for several hotels in French Polynesia, Morocco and Lebanon. In 2011, Sebastien moved to Dubai where, for four years, he led food and beverage operations at the One & Only Royal Mirage, which counted 16 outlets. He then managed the restaurant and bar portfolio of Dubai Creek Golf and Yacht Club for two years.
In May 2017, Sebastien joined the Four Seasons family as part of the pre-opening team at Four Seasons Hotel Tunis, overseeing the food and beverage division at this stunning seaside property. In 2019, he transferred to Four Seasons Hotel Alexandria as Director of Food and Beverage, running nine venues and playing a key role in the development of the new beachside expansion.
Four Seasons Resort and Residences at The Pearl-Qatar offers an exciting new opportunity for Sebastien. He is responsible for seven restaurants and bars, including two venues by Joël Robuchon International, the world's most Michelin-starred restaurant group. The beachside property also includes a Chicago-style steakhouse and an all-day Italian restaurant, as well as unique bars and lounges – all with sea views.
"We're creating the premier dining destination in The Pearl-Qatar community – building on the culinary reputation of Four Seasons here in Doha and at our properties around the globe." The existing Four Seasons Hotel Doha location at the Corniche is home to the world-renowned Nobu restaurant, as well as eight other venues. According to Sebastien, "Both properties provide distinct yet complementary offerings. Between our two Four Seasons locations, guests will be able to enjoy the finest cuisine in the world."
Sebastien oversees the new property's culinary vision, motivating his team and developing their talents to achieve excellence in all areas. As Sebastien explains, "We're providing different experiences for different occasions – bringing innovation and creativity to ensure that our guests always have something new to discover."
Sebastien is thrilled to share his Doha discoveries with his wife Meerima and their two children. They enjoy pursuing their favourite outdoor activities, such as swimming, running, golf and football – while making the most of The Pearl-Qatar community.