Back to Main
Four Seasons Hotel Tokyo at Marunouchi
1-11-1 Pacific Century Place, Marunouchi, Chiyoda-ku, Tokyo, 100-6277, Japan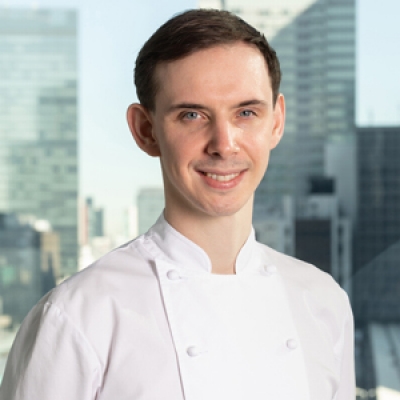 Daniel Calvert
Executive Chef
"Consistency is the key. Anyone can do something great once. Success lies in doing the same things over and over again, striving for excellence in every plate."
Four Seasons Tenure
Since 2020
First Four Seasons Assignment: Current
Employment History
Belon, Hong Kong; Epicure at Le Bristol, Paris, France; Per Se, New York City, USA; L'Autre Pied, London, UK; Pied à Terre, London, UK; The Ivy, London, UK
Birthplace
Languages Spoken
English, conversational French
From a low-key commuter town in southeast England to star-studded kitchens in London, Paris, New York and Hong Kong, Daniel Calvert's self-propelled rise to stardom is the stuff of dreams. "I didn't grow up picking peas from my grandmother's kitchen garden," he remarks with a grin, "nor was cooking a big part of my family life. Neither of my parents are really into food or wine."
Despite the non-culinary soil, however, a passion for cooking took root. Daniel was all of 13 when he woke up one morning and knew without a doubt that he wanted to be a chef: "I still have that same certainty – and I still have no idea where it came from!"
Now as Executive Chef at Four Seasons Hotel Tokyo at Marunouchi, Daniel oversees all things food and beverage, delivering a boutique experience marked by precision and attention to detail. "The highest quality should be felt across the property at all times," he explains. "So, whether you're having breakfast in bed, a working brunch or a celebration dinner at our flagship restaurant, you can expect an impeccable standard of food and drink, along with deeply personalised service."
Daniel also led the tenured team through an ambitious F&B renovation project, all the way from conceptualisation to reopening in summer 2021. Helmed by his singular vision, SÉZANNE was awarded one Michelin star less than six months after its launch. An exciting addition to Tokyo's impressive gastronomic scene, the restaurant has become a go-to experience for epicures.
"Our aim is to create a lineage of special memories for guests," notes Daniel, adding that his favourite part of the job is getting to know repeat diners. "I love nothing more than to see the same couple or family visiting us again and again for birthdays, anniversaries and so on; that's the highest compliment we can receive."
Like an entire generation of boys, young Daniel found inspiration in Jamie Oliver's "very approachable" TV show and cookbooks. At 16, armed with a desire to work in the world's best restaurants, he struck out for London: "I left school in July and started work in August." After cutting his teeth as a line cook at The Ivy, a popular celebrity hangout, he joined the 2 Michelin-starred kitchen of Pied à Terre to learn the fundamentals of modern French cuisine.
In 2009, he crossed the Atlantic to hone his skills as sous chef at Per Se in New York City, followed by a placement at Epicure at Le Bristol in Paris – both reputed establishments with three Michelin stars. Most recently, as head chef of Belon in Hong Kong, he led the neo-Parisian bistro into the coveted ranks of Asia's 50 Best Restaurants, winning the #4 spot as well as the Highest Climber Award. The restaurant also earned a Michelin star under his leadership.
With all this time spent in award-winning kitchens, what's the most important lesson he's learned? "Consistency is the key. Anyone can do something great once. Success lies in doing the same things over and over again, striving for excellence in every plate," he says, noting that the daily pursuit of perfection never feels like a chore if you enjoy what you do.
Living and working across several of the world's culinary capitals has made Daniel an open-minded chef, with a willingness to embrace versatile cultural influences and ingredients. And while his hometown may not be known for its culinary arts, growing up in Surrey gave him other valuable lessons: "Where I'm from, we're very straightforward and direct – and that shows in my cooking. Everything on the plate is there for a reason. It's finessed without being fussy or superfluous."
Eating out is a passion for Daniel, a way to immerse in new cultures as well as stay in touch with what's happening in the industry he loves. When he's not working, you're likely to find him out and about in Tokyo, sampling new sushi places, sipping vintage champagnes or just cycling around in the fresh air.