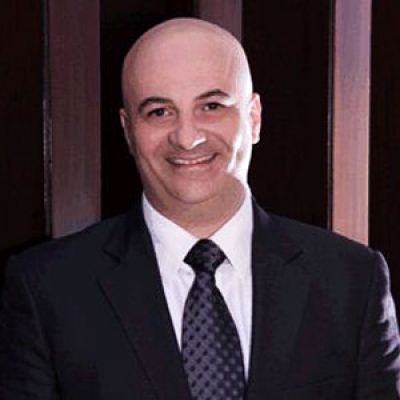 Ahmed Khalaf
General Manager
"Everything we achieve, we achieve through our people."
Four Seasons Tenure
Since 2000
First Four Seasons Assignment: Front Office Manager, Four Seasons Hotel Cairo at The First Residence
Employment History
Four Seasons Hotel Alexandria at San Stefano; Four Seasons Hotel Doha; Four Seasons Hotel Cairo at Nile Plaza; Four Seasons Hotel Cairo at The First Residence; InterContinental Hotels
Birthplace
Education
Hotel Management Diploma, Faculty of Tourism & Hotel Management, Helwan University, Cairo, Egypt
Languages Spoken
Ahmed Khalaf arrived as General Manager of Four Seasons Hotel Tunis with a promise and a hope. The former was that the Hotel would set a new standard of luxury in the capital of Tunisia. The latter was that, by treating employees fairly, in line with Four Seasons standards, he would become the best employer in the city. "Everything we achieve, we achieve through our people," he says, drawing upon experience at five Four Seasons properties in the Middle East since 2000. "The idea is to give them the experience and skills they need for a bright future with the company and to lead the hotel themselves someday."
Khalaf also had to instill his vision on the only true five-star luxury address in Tunis, located on a hilltop in the affluent Gammarth neighbourhood near the city's central business district, with 500 metres (1,600 feet) of beachfront, and glorious views of the Mediterranean Sea. "My vision was for the Hotel to be chic and friendly. We don't want Tunisians to visit our Hotel once, but to come back often, get to know the place, and return."
The Hotel, he says, changes the market in Tunis by setting a new level of luxurious hospitality and matching the bright future that Tunisians anticipate. "As part of that future, I can't help but feel happy because we as Four Seasons are participating in it," he says. "I think the Hotel serves as a benchmark to that, setting a new standard and level of hospitality that will be a model for future hotel builders to follow."
Four Seasons Hotel Tunis isn't Khalaf's first opening, but it's his first as General Manager. "Previously, I had responsibility for getting the Front Desk and then the Rooms Division off the ground; and now I have the entire hotel." In addition, he says, is his role in establishing relations with the Hotel's Tunisian owners. "Our owners are our partners, so everything has to go the right way."
Khalaf first became interested in the hotel industry as a young adult attending weddings at luxury properties in his native Cairo. "Everything is always so organised and clean in a hotel. The employees always looked so good in their uniforms, and every detail was shiny and beautiful." He thought it was a strange world: "A 'different world' is what I called it. I wanted to be a part of it."
After earning a hotel management degree, Khalaf joined an international hotel operator and honed his talents at five-star properties across Egypt. Then, as his big break, he joined the pre-opening team at Four Seasons Hotel Cairo at The First Residence, the company's first property in the Middle East, starting as Front Office Manager before being promoted to Director of Rooms.
After refining his skills even further at the company's Nile Plaza location, Khalaf moved onto Doha as Hotel Manager and then to Alexandria as GM. Good groundwork for his current assignment, he says, noting that all offer enticements for Tunisians, resort-like luxury for leisure travellers, services and facilities for corporate clientele, and stunning water views. "I'm a Pisces," he says with a laugh. "Water seems to be a constant for me."
Staffing a new hotel always comes with challenges. For Tunis, Khalaf sought out seasoned ex-pats and green locals alike. "We always look for warmth, confidence and ambition, people who really believe in themselves and the company they're joining," he says. "I want to have young people around because the future comes with the young. That's the talent we invest in because they're the carrier of our culture into the future."
Among many selling points, the Tunis property is within easy proximity of a marina where guests can charter boats for day cruises. Meantime, Ahmed has his own way to experience the Mediterranean coast: his Harley-Davidson Street Glide. "That's my escape," he says of his two-wheel fixation, which has taken him on road trips from every hotel, typically outfitted shoulder-to-toe in black leather with a bandana on top. "A lot of riders just like to park their bikes for show and then go home. That's not me. Life is a ride and I'm enjoying it."