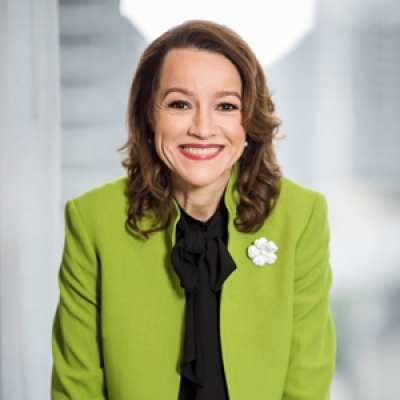 Nancy Chacon
General Manager
"Hospitality is an art that begins in your heart - it is only then that the commitment to service feels effortless, personalised and genuine."
Four Seasons Tenure
Since 1991
First Four Seasons Assignment: Front Desk Agent, Four Seasons Hotel San Francisco
Employment History
Four Seasons Hotel Baltimore; Four Seasons Hotel Buenos Aires; Four Seasons Resort Scottsdale at Troon North; Four Seasons Hotel Mexico City; Four Seasons Resort Punta Mita; Four Seasons Hotel Caracas (formerly a Four Seasons hotel); Four Seasons Hotel Austin; Four Seasons Hotel Los Angeles at Beverly Hills; Four Seasons Hotel San Francisco
Birthplace
Guatemala City, Guatemala
Education
Double Major: BA in Economics and French Studies, with honors, 1991, Mills College, Oakland, California
Languages Spoken
English, French and Spanish
A 30-year veteran with Four Seasons Hotels and Resorts, Nancy Chacon's invaluable experience and insights began in San Francisco as a Front Desk Agent in 1991. Since then, she has proven her impact in a variety of roles at Four Seasons properties in Los Angeles and Austin; Caracas, Venezuela; Punta Mita and Mexico City, Mexico; Buenos Aires, Argentina; and most recently, Baltimore, where she served as Hotel Manager.  
"I'm elated to be living in Atlanta where I am experiencing and delivering southern hospitality," says Chacon. "My first priority was to assist our employees and guests with adjusting to new travel norms since the pandemic, which was taking place as Chacon was settling into Atlanta. Chacon is also overseeing the renovation of the Hotel's re-imagined Grand Ballroom while also maintaining the Hotel's leading position in the Atlanta market as a hotel, spa and one of the most popular bars in the city, Bar Margot.
Providing the utmost comfort and secure environment of luxury that the hotel brand is known for is one of Nancy's top goals in Atlanta.
Lucky for the staff, Chacon's style of management is one of fun, collaboration and knowledge. She routinely quizzes her staff on notable brand directives in a way that makes everyone feel proud of the job they are doing. Her positivity, infectious laugh, and bright spirit always shine through in everything she does with a commitment to service that is second to none. Nancy believes that "hospitality is an art, and if you don't feel it in your heart your performance will not be complete."
A fluent trilingual (English, French and Spanish) Chacon hails from Guatemala City, Guatemala with an education in Economics and French from Mills College in Oakland, California. Her expertise in the hospitality world is an inspiring ride of success that she credits to her mother for giving her the gift of encouraging words and her father, who reinforced the importance of an education.
Her son Joaquin has been her constant travel companion. Affectionately referred to as "Joaco," she has been thrilled to introduce him to the beautiful scenery that is all around the state of Georgia. Seeing the world through his eyes, and the conversations they have are one of her greatest joys in life.