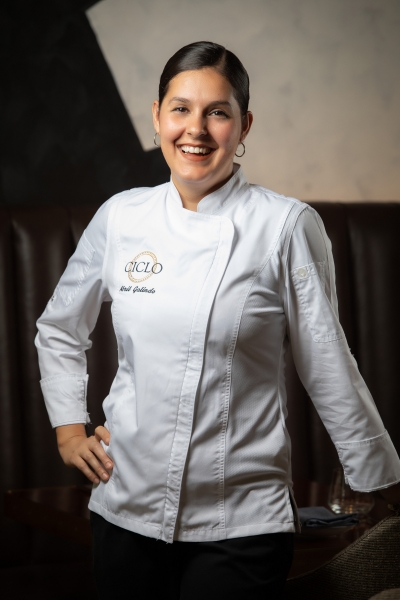 Abril Galindo
Executive Sous Chef
"Latin food, and specifically Mexican food, has so much to give. Tacos are just the cover page of Mexican food but to get to truly know it, you need to read the full book."
Four Seasons Tenure
Four Seasons Resort Punta Mita (2010), Four Seasons Hotel Austin (2012-2013 and 2015-present)
First Four Seasons Assignment: Intern at Four Seasons Resort Punta Mita
Employment History
The Greenbriar; Four Seasons Hotel Austin; Cuatro Patas Restaurant; Hotel Demetria; Four Seasons Resort Punta Mita; Mayan Palace Puerto Vallarta
Birthplace
Education
Universidad del Valle de Mexico (Guadalajara), International Bachelor degree in Administration of Culinary Business, Associated degree in Marketing
Languages Spoken
It's not often a chef can trace their culinary roots to one dish, but according to Abril Galindo, she wouldn't be where she is today if it weren't for the incredible, edible egg.
Born in Guadalajara, Mexico, Abril's meals growing up were anything but gourmet. "Most of the food my mom cooked was healthy and nourishing, so no butter or cream," says Abril. "She loved us and wanted to ensure we'd grow up to be strong."
Unsure what she wanted to do after high school, a pre-requisite for attending Universidad del Valle de Mexico, Abril took a year off school to work in the front-of-the-house at a local restaurant. Liking the fast pace and the opportunity to interact with people, she turned down medical school to study hospitality with the aim of becoming a restaurant manager.
Which brings us to that fateful egg. Required to take basic culinary classes as part of her training, Abril recalls the day her instructor had the class make eggs florentine. "I thought, 'Oh, we're cooking eggs,'" she says. "But when I tried them, I was shocked. Never in my life had I experienced that kind of flavour in eggs. My mouth was going crazy!"
Her first taste of properly prepared food lingered in the back of her mind, even as she continued to learn everything she could about hospitality through a 2008 internship at the Mayan Palace in Puerto Vallarta. A stint as a front desk agent wasn't a fit, but she found she loved the concierge department, or more accurately, the need to personally try the restaurants she and her colleagues recommended to guests.
Intrigued by the new cuisines and flavours she was experiencing, Abril asked the hotel's chef if she could work shifts in pastry after her regular job. Although unpaid, she loved it and returned to school determined to shift her concentration to the culinary track.  
Abril's next internship, in 2010, would be her first experience at a Four Seasons. Assigned as a cook at Four Seasons Resort Punta Mita, she enjoyed the role despite 11-hour days and a gruelling hour-long trek to and from the Resort each day. "The things I saw there were so new to me; how they grilled octopus, how they made steaks, it was all amazing," says Abril, who soaked up each new experience like a sponge.
Even the experiences that showed her what she didn't want to do were embraced, such as the month she spent in the hotel's pastry shop. "With savoury food, you can start cooking, try it, and then adjust. But in pastry, you must follow the recipe and if you get one thing wrong, you have to start again. There are a lot of rules in pastry that you have to follow. I guess I like when people let me just do whatever I want," she explains with a laugh.
In her last semester, Abril took a cook position at Hotel Demetria, a 20-room boutique hotel in the heart of Guadalajara that boasted two restaurants. Initially hired for the breakfast period, a change to her class schedule forced her to divide up her work shifts with school sandwiched in between. "It was a quick lesson on multi-tasking and how different the meals are at various times of day. I basically didn't sleep," she says.
Though exhausted, Abril was energised by the experience, especially when the executive chef asked her to cook for the hotel's exclusive 40-seat concept restaurant. "The menu changed every day and was hyper-local," says Abril. "We'd get the freshest things we could get and cook with them."
Ready to tackle her first role at the helm of a restaurant, in 2011 Abril moved to Cuatro Patas, a gourmet hamburger restaurant that made everything from scratch. There for only one year – "I'd learned what I needed to learn, and wanted more" – she credits the experience with teaching her the administrative side of a chef's role since she had to be vigilant about food cost due to the restaurant's small size.
Abril found her "more" at Four Seasons Hotel Austin after sending a hospitality recruiter her resume in November 2012. He called the same day and she moved to Austin within a month to take part in Four Seasons management training program. As a trainee, Abril worked her way through every station in the kitchen. A fast favourite was the role of lunch cook, since she was in charge of creating each day's unique special. "I'd come in early and leave late each day because I was just soaking it all up," says Abril. "Then I'd go home and study and practice dishes that I could make the next day."
Her co-workers and most notably, Executive Chef Elmar Prambs, soon took notice. But sadly, the end of the program was approaching and a visa issue prevented her from continuing on with Four Seasons Hotel Austin. "So I went back home with my heart broken because I didn't want to leave."
After four long months at home, a chef de partie position opened up at the esteemed Greenbrier in West Virginia, a role that came with a three-year visa. For Abril, her two years at the Greenbrier were challenging, both physically and mentally, but an incredible opportunity to learn about different cuisines and the techniques that go with them. "The Greenbrier makes everything from zero, stocks, ice cream, all of it's from scratch." Plus, she was able to indulge her interest in growing plants, herbs and vegetables at the resort's expansive garden, a project she personally oversaw with the head chef.
In 2015, Abril received a fortuitous text from Elmar that would bring her back to Four Seasons Hotel Austin, although this time as a banquet chef responsible for coordinating the food for hundreds of events each year. "It was the same kitchen as before, just a different side to the culinary operation," she says.
In 2018, the opening of Live Oak presented Abril with the opportunity to craft a lounge concept that was entirely her own. Inspired by her roots and memories of incredible meals in Guadalajara, she created a menu filled with flavour-rich dishes ranging from traditional torta ahogada to items with a more global slant, such as duck confit flautas and salmon belly dumplings.
"Latin food, and specifically Mexican food, has so much to give. Tacos are just the cover page of Mexican food but to get to truly know it, you need to read the full book," says Abril. "Every Latino country, state, region even a small neighbourhood has different dishes and ingredients that the majority of the American population aren't aware of. It's very important to me to show a little bit of my roots because that's the best way I can contribute to make America's culture bigger and richer."
Abril is also responsible for the breakfast, lunch and brunch menus in Ciclo, the Hotel's modern Texas kitchen.