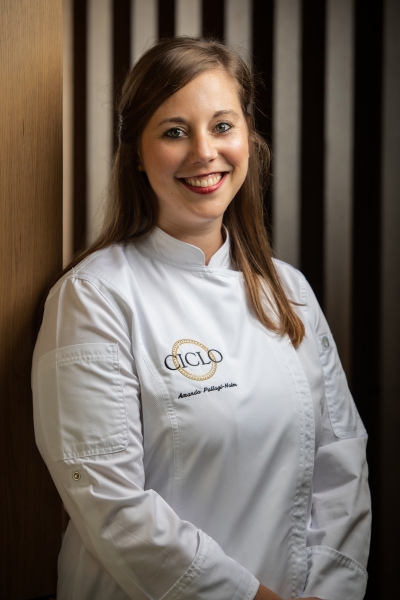 Amanda Pallagi-Naim
Executive Pastry Chef
"It's such an art where you can truly see and taste the love coming through in the product."
Four Seasons Tenure
Since July 2008
First Four Seasons Assignment: Hostess at Four Seasons Hotel Austin
Employment History
Four Seasons Hotel Austin; Aramark; City Café, McAllen, Texas
Birthplace
Education
The French Pastry School (Chicago) ; BA Business Administration from St. Edwards University (Austin)
Languages Spoken
If anyone was born to bake, it's Amanda Pallagi-Naim, Executive Pastry Chef at Four Seasons Hotel Austin. Growing up in McAllen, Texas, Amanda says it was her grandmother who initially inspired her culinary passion. "She was from Georgia and loved to bake, so I started joining her in the kitchen regularly around eight or nine years old."
This early interest turned into a full-fledged business in high school, where Amanda would combine her cooking skills with a natural craftiness and entrepreneurial spirit. "I'd come up with packages for Valentine's Day involving Hobby Lobby containers and baked goods and sell them to teachers in the teacher's lounge," she says. Soon, word spread and she was doing brisk business selling cookies to other students and friends. "I had to start charging because my mom told me my habit was getting too expensive! But I wasn't necessarily rolling in the dough," she laughs, realising her own pun.
At 16, Amanda got her official start in the restaurant industry as a dessert prep cook at City Café in McAllen, a counter café that sold cookies, brownies and lemon bars as well as whole cakes that were bought from other bakeries. It was easy work that she'd often finish early, so to fill her time the owners let her experiment making her own cakes. A few Turtle cheesecakes, strawberry shortcakes and Italian cream cakes later, they were convinced of her talent and gave her creative freedom to produce all of the café's in-house desserts.
Despite loving it there – and the owners' generous offer to foot the bill for culinary school – college and the allure of Austin soon came calling. At 18, Amanda began pursuing her bachelors in Business Administration at St. Edwards University in the Texas capital. "I thought I wanted to go into restaurant management," says Amanda, who worked part-time for the university's food concessionaire in between classes.
Following graduation, a connection at Four Seasons Hotel Austin helped her get an interview for a hostess position in the Hotel's newly launched restaurant, TRIO. "I thought I'd do that while looking for a management position, but during that time Four Seasons became like a home."
She also fell in love with the inner workings of the pastry shop. "Going back into the kitchen all of the time, I started thinking, 'That's what I want to do.'" Though unaware of Amanda's innate talent, the Executive Pastry Chef at the time encouraged her to attend the French Pastry School in Chicago, an intense curriculum covering all of the basics of pastry. Sure this was the path she wanted to pursue, Amanda signed up for the course and was on a flight to Chicago the next month.
In October 2009, Amanda transferred from the front-of-the-house to the Hotel's pastry department as a cook. The basics she'd learned in Chicago were quickly supplemented with new skills that only furthered her excitement for the craft. For example, when placed on the early-morning "baker shift," she quickly learned how to make laminated doughs for croissants and danishes, along with many other recipes and baking techniques. "I completely fell in love with baking bread and yeast doughs. It's such an art where you can truly see and taste the love coming through in the product."
Over the next five years, Amanda took on increasing levels of responsibility, establishing herself as a right-hand woman to Executive Pastry Chef Javier Franco, and earning her own accolades both in the media and at the Hotel. So when Javier transferred to Four Seasons Resort Santa Barbara in late-2015, Amanda was a natural pick to fill the head pastry role.
As fun as it can be, the Executive Pastry Chef position is a busy one with just a small team of six turning out thousands of pastries, breads, desserts and cakes each week for Ciclo, which replaced TRIO in 2018, as well as for Live Oak, banquet events and in-room dining. For Amanda, though, seeing her team work together to enhance the guest experience makes the hectic pace well worth it.
Outside of work, Amanda enjoys exploring the ever-changing food and drink scene in Austin with her husband. And she still loves to cook at home: "Although I'm in the kitchen all day at work, it's a whole different ball game cooking savoury food at home. If I bake desserts at home, it's usually for someone I love."