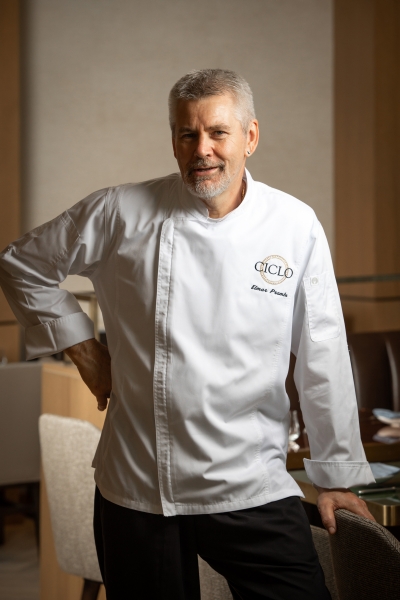 Elmar Prambs
Executive Chef
"My mother's cooking is still a huge influence on me. Just like her, I present menu items that are well-balanced and full of natural flavour."
Four Seasons Tenure
Since 1977; at Four Seasons Hotel Austin since 1986
First Four Seasons Assignment: grill cook at Four Seasons Hotel Vancouver
Employment History
Four Seasons Hotel Austin; Four Seasons Resort and Club Dallas at Las Colinas; Four Seasons Hotel Edmonton (formerly a Four Seasdons hotel); Four Seasons Hotel Vancouver; Hyatt Hotel, Vancouver, Canada; Queen Elizabeth Hotel, Montreal, Canada; Hilton Hotel, Stratford-upon-Avon, UK
Birthplace
Education
Berufsschule Garmisch-Partenkirchen
Languages Spoken
English, German, French, Spanish
Like any good chef, Elmar Prambs (pronounced "proms") learned from the best. "My mom was a wonderful cook, she taught me a lot," says Elmar. "There were four of us boys at home and my mom was always putting wholesome, homemade meals on the table for us. In fact, I think I was 14 before I ever went to a restaurant."
After a boyhood spent cooking and eating the food of rural Germany, Elmar knew he wanted to make culinary arts his profession. To get his foot in the door, he completed an apprenticeship with a German master chef, a formative experience that influenced his vision of the culinary world and instilled in him a strong work ethic.
He went on to work in the kitchens of the British Hilton at Stratford-On-Avon and The Queen Elizabeth Hotel in Montreal, joining Four Seasons Hotels and Resorts in 1977 at its Vancouver property. A transfer five years later to the brand's Edmonton hotel, followed by a stint at Four Seasons Resort and Club Dallas at Las Colinas, laid the groundwork for Elmar next role – heading up the pre-opening team at Four Seasons Hotel Austin as Executive Chef.  
At the helm of The Riverside Café, the Hotel's original restaurant, and later The Café at Four Seasons, Elmar would earn an outstanding reputation and loyal following, as well as accolades from such distinguished diners as Queen Elizabeth and Presidents George W. Bush and Bill Clinton.
In 2007, he led the transformation of The Café into TRIO, a contemporary steakhouse concept that redefined Austin's dining scene at the time. His creativity and culinary expertise were once again tested in 2018 when he was tasked with the launch the Hotel's new restaurant and bar, Ciclo and Live Oak respectively.
According to Elmar, maintaining a high level of creativity is a constant challenge, but the Four Seasons standard of excellence calls for no less. "You have to be constantly inspired to try new dishes," he says. In developing these culinary masterpieces, Elmar strives to impart his personal touch into each menu item. "A standard recipe lacks something," he says. "I often get more inspired by the photos in a cookbook than the recipe itself."
Elmar is often lauded by local and national media for his unique blend of flavours and stunning presentations; at the same time, his passion for culinary arts and mentoring other chefs has earned him the unofficial title of "patriarch" of Austin's culinary community. Indeed, several of the city's most successful chefs sharpened their skills at Elmar side, a fact he brushes aside as just part of the job.