Back to Main
Four Seasons Hotel Bangkok at Chao Phraya River
300 Charoenkrung Road, Yannawa, Sathorn, Bangkok 10120, Thailand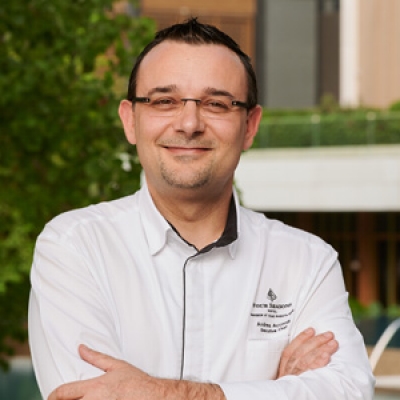 Andrea Accordi
Executive Chef
"My career really started here, so this is like coming back home for me. Only this time, I'm bringing so much with me."
Four Seasons Tenure
Since 2007
First Four Seasons Assignement: Executive Chef, Four Seasons Hotel Prague
Employment History
Four Seasons Hotel Hong Kong; Four Seasons Hotel Lion Palace St. Petersburg; Four Seasons Hotel Prague; Onice Lounge & Restaurant, Villa La Vedetta, Florence; Hotel Laudinella, St. Moritz, Switzerland; Residence de la Pinede, St. Tropez, France; Le Royal Meridien, Phuket, Thailand; Regent Hotel, Bangkok; Toto's, Knightsbridge, London; The Regent Palace Hotel London
Birthplace
Education
Secondary School Degree, Catering School, Istituto Professionale Servizi Alberghieri e della Ristorazione (I.P.S.A.R.), Bardolino (Italy)
Languages Spoken
Italian, English, Thai and basic French

"I'm giving my soul to Bangkok," says Andrea Accordi, musing on his role as Executive Chef of Four Seasons Hotel Bangkok at Chao Phraya River before adding, "and a lot more." Indeed, from his well-practiced knowledge of a range of international cuisines, to his talent for teaching the skills to excel in the kitchen, to his experiences at Four Seasons openings and established properties alike, Accordi has quite a bit to give.  
There's a lot on Accordi's plate in Bangkok, including a riverfront Italian, French brasserie and Chinese destination restaurants; a Latin American-inspired social club fashioned as a backdrop for spectacular original cocktails; and an expansive banqueting operation with a wedding-friendly ballroom with a terrace overlooking the Chao Phraya at its core.
"We're catering to clientele who want a relaxed, unhurried lunch, as well as those for whom dining is an event," he explains. "Either way, there's an excitement here, with everything coming together to create a food-and-beverage destination all its own."
"The Thai are like Italians: They grew up with food," he continues. "You can't go 10 feet on the streets here without running into a food stall."
Accordi knows quite a bit about the Thai palate. Though born, raised and schooled in Italy and now travelled all over the world, he has long had a soft spot for Bangkok and the country beyond. It's where he first shook off the coils of European cuisines, arriving early in his career for a food promotion to demonstrate "The Perfect Pasta" – "it was perfect because I made it the old fashioned way" – and getting immediately hooked.
"I was only 19 at the time, and it was such a beautiful country. As soon as I returned to my job in London, I started seeking out opportunities across Thailand."
It worked. At age 20, Accordi headed first to a luxury address in Bangkok and then moved on to a beach resort on the island of Phuket where he spent three years as a fine-dining chef working on his culinary skills. Though assigned to the resort's Italian restaurant, he spent mornings in the Thai kitchen to learn the techniques, textures and flavours of Asian cuisine. He swam everyday, and also had a chance meeting with a lovely gift shop attendant. "Two people really fuelled my passion for cooking in Thailand," he remembers, "my executive chef at the time, and my wife Korrakod."
After returning to Europe intent upon further polishing his skills, Accordi achieved his first Michelin star in Florence at age 25 and then landed as Executive Chef of Four Seasons Hotel Prague. He was a local sensation, renowned for blending Far Eastern flavours such as Chinese anise, Szechuan pepper, cardamom, citronella, liquorice, ginger and lemongrass into modern Italian fare. His signature dish, suckling pig, was all over the map, prepared Italian-style with Asian influences, or "the Czech way". Diners were duly impressed and critics were, too: Just eight months into Accordi's operation, the Hotel's signature restaurant earned a Michelin star, the first-ever awarded in Eastern Europe.
That success behind him, in 2012 Accordi was tapped to open Four Seasons first property in Russia at Lion Palace in St. Petersburg. It was a challenging but rewarding experience. "We discovered something new day-by-day, we grew together, and what we achieved was phenomenal," he says, recalling that the Hotel's Italian restaurant Percorso, one of three dining experiences onsite, was full from opening day.
There was one last stop for Accordi en route to Bangkok: Four Seasons Hotel Hong Kong, where as Executive Chef for nearly three years he was integral to the history-making moment when the Hotel's food and beverage operation was honoured with an unprecedented eight stars from Michelin Guide 2019 Hong Kong-Macau, the most Michelin stars found in a single hotel anywhere in the world.
"I so enjoyed my time in Hong Kong," he says in reflection, adding with a smile, "I got my foot back into Asia and left with stars in my eyes."
Whatever the destination, Accordi gives all he's got and gets what he can in return. The same holds true this time around in Bangkok. "Learning to cook is a never-ending story, with so many cuisines and cultures to discover," he says. "My career really started here, so this is like coming back home for me. Only this time, I'm bringing so much with me."