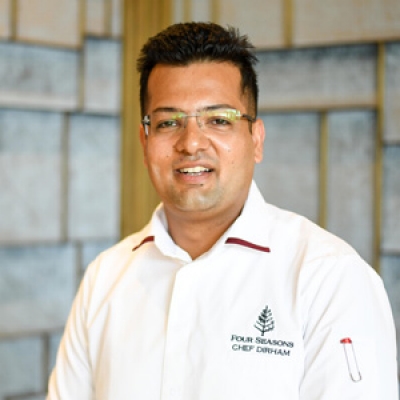 Dirham Haque
"When fresh, locally grown ingredients are the lead stars of the show, there is little else to do to a dish, apart from letting them shine on their own."
Four Seasons Tenure
Since 2019
First Four Seasons Assignment: Current
Employment History
Jumeirah Zabeel Saray, Palm Jumeirah, Dubai ; The Oberoi Gurgaon, The Oberoi Dubai; ITC Maurya, New Delhi; ITC Gardenia, Bengaluru; ITC Grand Chola, Chennai; Kitchen Management Trainee- WMI, ITC Hotels  
Birthplace
Education
University of Huddersfield; Institute of Hotel Management, Aurangabad; Welcomgroup Management Institute; Jumeirah Group's Certified One Year Mentorship under director of communication
Languages Spoken
Travelling to exotic new places and trying out the varied cuisine on offer instilled in Chef Dirham Haque a deep love for food early on.
Looking back on the major influences that have impacted his culinary journey, he reminisces of trips to London, Warsaw and Baghdad, among others. "I was a child who loved to eat. Since my dad was a senior official with United Nations, we got to travel and also live in many different places. Wherever I went, I carried very fond food memories including delicious waffles and pancakes that I feasted on as a child in all these wonderful places," quips Chef Dirham.
However, one of the early inspirers in his life was his mother, who was a proficient home cook, admits Chef Dirham. From kebbeh to kebabs, Iraq has arguably the most flavoursome food of the Middle East. "In the years that we spent living in Baghdad, my mother mastered the art of Iraqi cuisine including finger-length dolmas stuffed with minced meat, rice, nuts and spices all bound together with lemon zest."
His own style of cooking is that of paying deep tribute to the philosophy of slow food, with a definitive slant towards local, farm-to-table produce. "When fresh, locally grown ingredients are the lead stars of the show, there is little else to do to a dish, apart from letting them shine on their own."
Chef Dirham Haque has had a progressive culinary journey honing his craft, but his signature stroke is that in the Indian kitchen and in the dum pukht or slow cooking style of the ancient Mughal kitchens.
This technique originated years ago in the Northern Indian subcontinent, where meat and vegetables are cooked for hours on a low heat with spices in a vessel or handi, which is sealed with dough.  The dum pukht style of cooking allows for meat and vegetables coated with spices and herbs to cook in their own juices while allowing the moisture to permeate inside very gently. The flavour and aroma these dishes produced were adored in the royal Mughal kitchens and the chefs who mastered this technique were revered craftsmen.
"When we opened, we were able to lay a very strong foundation in culinary. All of the produce was local and of premium quality sourced through our network. The most modern infrastructure in the kitchens ensured that we had it all going in full swing. Last but not the least, a great team was the force in our kitchens.," points out Chef Dirham, about the opening of Four Seasons Hotel Bengaluru.
Having cooked for many guests across his culinary journey, does any particular event stand out in his mind? "It would certainly have to be the occasions where I was fortunate to cook for more than 45 Heads of State including Barrack Obama, Vladimir Putin and George Bush, among others. The sheer thrill as well as attention to detail that goes into state dinners is something."
Chef Dirham Haque has had many moments in the sun during his professional career, such as representing India as a part of the World Economic Forum in Davos, Switzerland for two years, being instrumental in getting Three Black Hats for the Indian Cuisine Speciality Restaurant he worked at in Dubai for three consecutive years, and many other accolades to his name.
But ask him what he finds the most gratifying, and it would be to have his mother appreciate his cooking!