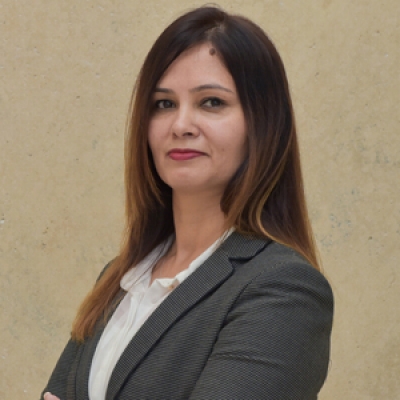 Minu Budhathoki
Spa Manager
"Infuse Spa is a place of fulfilment. It reassures me just to know that our guests will walk away from this 'happy place' with a spring in their step and a deep sense of feeling content."
Four Seasons Tenure
Since 2018
First Four Seasons Assignment: Joined the pre-opening team as Spa Manager at Four Seasons Hotel Bengaluru
Employment History
Taj, Burj Al Arab Hotel - Jumeirah Group
Languages Spoken
A deep-felt conversation with Minu Budhathoki will leave you convinced of two things. First, wellness to her is not just a career but a passion that is an extension of her spirit. Second, she is a shining example of what a holistic approach to life can accomplish.
Growing up in Nepal, Minu has always celebrated a close bond with nature as well as a certain mindfulness that comes with living near the majestic Himalayas. A lightness of step and a deep sense of equilibrium are some things that come naturally to mountain bred people, and the mighty Himalayas have certainly left their impact on this wellness advocate.
Though she started her hospitality journey in the front office, Minu stayed close to the principles she grew up with. When an opportunity arose for her to make a shift and lean in towards wellness as assistant spa manager, she knew the time had come. "Your passion always has a way of drawing you in," she says, looking back on this serendipity.
Her Four Seasons journey has been one of joyful learning. In a few weeks post joining, as another serendipitous turn of events, Four Seasons in Mauritius sought out someone to come on a task force assignment. The deep blue waters of this magical island seemed like the perfect stop on her career path and Minu flew to Mauritius with a spring in her step and stayed there for a couple of months heading Spa operations.
"My time in Mauritius really taught me a lot, I have worked in city hotels in the past and being a part of the resort was an immersive learning experience. At resorts, wellness is not just a massage or spa, it is holistic and this really helped me reconnect with my roots. I hope to bring that same feeling of fulfilment and wellness to Infuse Spa in Bengaluru."
Speaking about Infuse Spa, her eyes light up, "This one is special,"' she says. "We aim to offer the most luxurious spa experience in this urban destination. The city is trendy and the citizens are well travelled, discerning and knowledgeable. We welcome resident and non-resident guests to an ultimate pampering with some of our bespoke spa experiences."
Minu looks forward to getting to know the city better. "I already love Bengaluru, the perfect place to enjoy the outdoors and also see the world whizz past. I am a keen marathoner and the city provides so many spaces to go out for a run. What's more, the weather lives up to its reputation."
Eager to showcase the unique, hand crafted offerings she has devised at Infuse Spa, she says, "All treatments have been designed keeping in mind the various needs of our global travellers with a local slant. Infuse Spa has some wonderful treatments crafted in-house that have a true local touch to them. We celebrate the fact that we are close to the lush coffee plantations in Coorg and have taken the anti-oxidant properties of coffee to tailor-make a signature treatment. Our treatment called Flower at Four Seasons is a tribute to the Garden City that Bangalore is known as."
When choosing to pause and recharge, Minu loves to explore new eateries with her daughter as they share some moments bonding, while trying new cuisines.