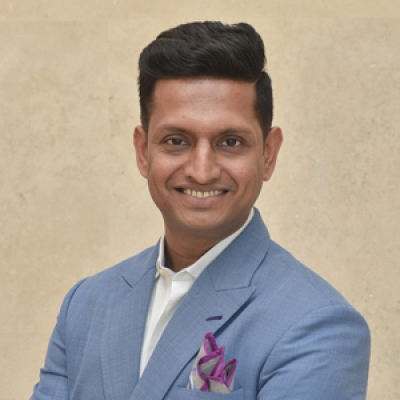 Ranjith Premraj
Director of People and Culture
"A smile is something that easily connects people, so we look for someone who has a big smile. That is our signature."
Four Seasons Tenure
Since 2006
First Four Seasons Assignment: Human Resources Manager at Four Seasons Hotel Mumbai
Employment History
Four Seasons Resort Dubai at Jumeirah Beach; Four Seasons Hotel Dubai International Financial Centre; Four Seasons Resort Mumbai; Intercontinental Marine Drive, Mumbai
Birthplace
Education
Manipal Academy of Higher Education India, Bhandarkar's Arts & Science College India
Languages Spoken
As a guest steps into Four Seasons, the key to making an experience truly great is in the people they meet during their stay. From front office to housekeeping, every interaction contributes to that perfect Four Seasons experience, which is why Four Seasons Hotel Bengaluru Director of People and Culture Ranjith Premraj loves his job. "It's truly special to find the ideal candidate to join the Four Seasons family, the different links that will keep the hotel running in the pristine way we are renowned for."
At Four Seasons, each employee goes through a four-tier interviewing process that includes meeting the General Manager for the final interview. "I often get asked why the General Manager is involved in the hiring of line level candidates like stewards and housekeepers. It is very important for us as a company to find someone who fits in the Four Seasons culture. Also, when we hire a candidate, we consider their potential for growth, international mobility and more," he says.
"We are essentially a people centric company. Individuals who are naturally warm, friendly, have that certain flair and pizzazz do catch our attention. A smile is something that easily connects people, so we look for someone who has a big smile. The signature Four Seasons smile," adds Ranjith with a twinkle in his eye.
While qualification and technical ability are required for certain key positions, at Four Seasons the belief is that many of those skills can be learned on the job. Hence the focus is on character and personality while interviewing potential candidates.
Speaking on how he handles the challenge of finding the perfect fit, he says, "It has always been easier for us to hire young talent, fresh out of hotel school and mould them our way. This helps us to train, develop and give our employees an extended world view. Longevity in the company is something that we work towards ensuring passionately."
Though not with a traditional start in the hospitality industry, Ranjith always knew this was his calling. "I'm not a hotel school graduate but always dreamed of being a hotelier for its glitz and glamour. My first job was in a real estate company in Mumbai who were building a 5 Star hotel then. It gave me a sneak peek into a hotelier's life and only made my belief stronger that this is where I wanted to be."
A glowing testament to why Four Seasons has been awarded among "Fortune's 100 Best Companies to Work for," for decades, Ranjith first joined Four Seasons in 2006 as part of the pre-opening team at Mumbai, with additional exposure in other countries. "The company provided me with opportunities to work in Singapore, two properties in the Maldives and two properties in Dubai, UAE, from where I transferred to open this iconic property in Bengaluru as Director of People & Culture."
An avid tennis lover, Ranjith looks forward to bringing Four Seasons culture to Bengaluru. "This is my seventh property and fourth pre-opening experience with Four Seasons. I can't be grateful enough for the opportunities, guidance and the exposure I have received over the last thirteen years with Four Seasons. Everything still feels like a dream."