Back
Four Seasons Hotels Bogota Get Ready for the Cultural Capital's Top Events of the Year
The Museum of Gold is always a must, as is the view of a city, already at a very high altitude, from the top of Monserrate mountain - but Bogotá has other outstanding cultural spaces and events that will greatly complement a magnificent stay at Four Seasons this year
March 27, 2023,
Bogotá has doubtless become a musical city. People from different parts of the country, and music lovers from other countries of the region travel to enjoy live performances of the best international and national artists. Four Seasons Hotel Bogota and Four Seasons Hotel Casa Medina Bogota recommend the best of the year:
Estéreo Picnic is a multi-day music festival that has established itself over the years as one of the best events of alternative music of different styles and genres. The 2023 edition will take place from March 23 to the 26 on a golf field at the northern entrance of the city. Some of the highlights at the stage this time are: Drake, Billie Eilish, The Chemical Brothers, Rosalía, Tame Impala, Lil Nas X, The 1975, Cut Copy, Blondie and Bizarrap.
The Baum Festival, described by the event itself as "the biggest rave in the country," is an exciting music festival that will take place on May 20 and 21, 2023 at the Corferias Convention Center. Under the umbrella of the electronic genre, a variety of artists will perform: nearly 70 DJs will make Bogotá's best party spirit shine for two nights.
Indoor venue Movistar Arena has also a weekly schedule of international and local artists. Colombian singers Fonseca, Santiago Cruz, the American star Alicia Keys, and Argentine comedy group Les Luthiers, and pianist and singer Fito Páez, among others, will be on stage in the coming months. Also, El Coliseo Live brings the most beloved music stars and genres of Latin America and abroad to Colombia. A few coming soon: Spanish singer Alejandro Sanz, and the Vallenato Festival of Bogotá. Also, on October 4, 2023, the world-famous Canadian singer The Weeknd will perform at El Campin Stadium (Estadio Nemesio Camacho El Campin). And on November 11, 12, and 13, 2023 Rock al Parque will take place in The Simón Bolívar Metropolitan Park (Parque Simón Bolívar); a massive free rock music festival that gathers around 50 bands every year.
Barcú is another platform definitely worth checking out. It started as an art and music festival bringing galleries and musicians together in the colonial center of Bogotá but has evolved into a delicately curated show where Latin American artists and musicians are showcased but also supported through networking, exhibitions, and residencies. BARCU has the conviction that art can contribute enormously to transforming societies in a positive, sustainable way.

Wherever it is around the world, including Bogotá, Cirque du Soleil is an unmissable show. From March 29 to April 30, 2023, Cirque du Soleil Bazzar will perform at Salitre Mágico Park bringing together the best of human endurance and physical power, in harmony with intense creativity and spectacular visuals.
The prestigious Bogotá International Book Fair (FILBo) will celebrate its 35th edition from April 18 to May 2, 2023 at Corferias Convention Center, and Mexico will be the Special Guest Nation. This year, the concept of Raíces (roots) in relation to the three main cultures founding Colombian identity –indigenous, Spaniard, and African – will serve as a basis from which to address issues of sustainability, environment, gender, peace, and sense of belonging.
When visiting La Candelaria – the heart of Bogotá's downtown – a stop by Teatro de Cristobal Colón is recommended. Going to a night show is ideal, but visiting the theatre during the day to appreciate its facade and architecture is also a great option. Teatro Colón is the heart of historic downtown Bogotá and a city landmark. Designed by Italian architect Pietro Cantini in 1885 with the neoclassical "a la Italiana" opera style of XVII century theatres, it hosts the best of worldwide classical music and other genres in a highly curated program.
Finally, at the opposite end of the city, Teatro Mayor Julio Mario Santo Domingo offers an outstanding program of theatre, concerts, and performative arts in general. This year it will have Spain as Guest of Honour, and it will also host some of the concerts of the sixth edition of the International Classical Music Festival of Bogotá, which will take place between April 5 and 8, 2023 with a focus on the glamorous Belle Époque.
After experiencing Bogotá through the lens of Four Seasons, it is always a pleasure for the Hotel teams to welcome guests back to recharge and relax while keeping the best memories of these pleasant activities.
---
---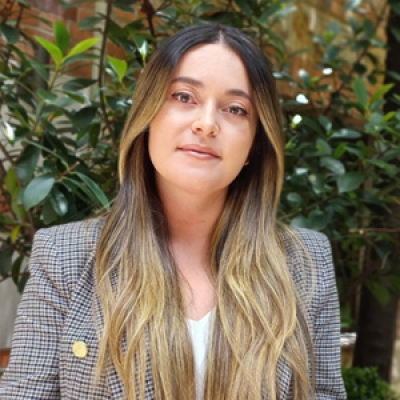 Laura Quintana Niño
Cra 7 No. 69A-22
Bogotá DC,
Colombia
---
Four Seasons Hotel Bogotá
PRESS KIT

Visit Four Seasons Hotel Bogotá Website
Four Seasons Hotel Casa Medina Bogotá
PRESS KIT

Visit Four Seasons Hotel Casa Medina Bogotá Website