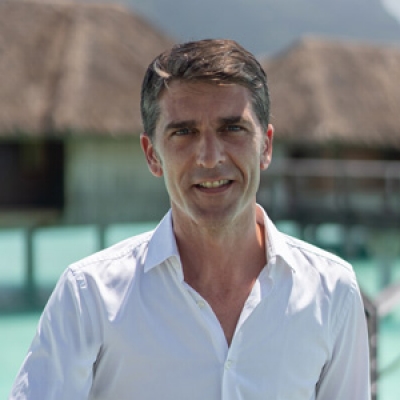 Romain Chanet
General Manager
"With a newly-enhanced product and unmatched service, I look forward to leading our team into the future, and to delighting our guests with the ultimate in experiences and memory-making."
Four Seasons Tenure
Since 2022
First Four Seasons Assignment: Current
Employment History
Le Meridien Noumea and Le Meridien Il des Pins, New Caledonia; Soori Bali, Indonesia; Le Meridien Fisherman's Cove, Seychelles; Le Meridien Etoile, Paris; Marriott Champs Elysées and Renaissance Vendôme, Paris; Renaissance Paris la Défense, Paris; Le Gavroche, London
Birthplace
Education
Degree in Hospitality Business - Marketing & Finance from Hotel Savoie Leman - Thonon Les Baines, France
Languages
A hospitality industry veteran of more than two decades, Romain Chanet is a native of Deauville, France. Destined for hospitality, he is a third-generation hotelier, which led him to graduating with a Degree in Hospitality Business - Marketing & Finance from Hotel Savoie Leman in Thonon Les Baines, France.
From there, he began his hospitality career as head waiter at the Michelin 2-star restaurant Le Gavroche in London. Chanet then returned to France, where he moved up the ranks with the Renaissance and Marriott brands in Paris in various reservations and revenue management positions, culminating with the role of cluster director of market revenue analysis. He remained in Paris with Le Meridien overseeing revenue management before moving with the brand to New Caledonia as hotel manager of the Il des Pins property. Hooked on island life, Chanet then transferred to Seychelles as general manager of Le Meridien Fisherman's Cove, and later in Indonesia, as general manager of Soori Bali. Prior to joining Four Seasons, Chanet had returned to New Caledonia as cluster general manager of Le Meridien Noumea and Le Meridien Il des Pins.
"The warmth of the Polynesian people is extraordinary, and I love seeing the connection our guests make with our team," says Chanet on his impressions on life in Bora Bora. "It has been a dream to live and work in French Polynesia, and I would not do it anywhere other than this iconic Bora Bora resort. With a newly-enhanced product and unmatched service, I look forward to leading our team into the future, and to delighting our guests with the ultimate in experiences and memory-making."
Chanet, who speaks English and French, enjoys spending time with his wife and younger son, as well as visiting his adult son who lives in Paris. In his spare time, he enjoys travelling, discovering new cultures, photography, and trekking.