Back
Four Seasons Hotel Cairo at The First Residence Welcomes Charles Fisher as General Manager with Insightful Vision for The Hotel's Future
August 17, 2023,
Cairo at The First Residence, Egypt
Four Seasons Hotel Cairo at The First Residence welcomes Charles Fisher as the newly appointed General Manager of the luxurious hotel in Egypt, bringing a whole new vision for change through innovation and creativity.
Hailing from the UK, Charles Fisher makes the move from Tokyo, Japan to the heart of Cairo as General Manager of Four Seasons Hotel Cairo at The First Residence, poised to enter an exciting new phase of transformation for the property and destination.
Charles brings an impressive 24 years of hospitality experience, tenured at Four Seasons Hotels and Resorts properties across the globe and an unwavering belief in the power of change. Combining expertise with positive thinking, he is set to lead Cairo's premier boutique hotel into the future. "With the hospitality industry rapidly evolving, we're primarily focusing on innovation and creativity while maintaining a strong connection with our guests by curating personalised experiences in the way only Four Seasons can," he explains.
With 212 guest rooms and 50 suites tucked away in the prestigious first place complex in Giza, this intimate boutique hotel is perfectly suited for customized stays in Cairo. It is an impeccable luxury hotel coupled with a heartfelt standard of service, bringing traditional Egyptian hospitality to life. "From our front office members to our guest experience officers, at First Residence is a team that takes great pride in personally recognising every guest, anticipating their needs and tailoring their entire experience. This could mean making authentic Four Seasons memories whether it's navigating the city with their favourite culinary delights or organising a special celebration, or creating an element of surprise throughout their stay," says Charles.
Inspired by a positive vision for the future of Four Seasons Hotel Cairo at The First Residence, Charles is excited to elevate the guest experience from all aspects, whether it's dining at the First Nile Boat, the first ever culinary boat launched by Four Seasons that is located steps away from the hotel, or elevating the experience of a guest undergoing a relaxing treatment at the Spa.
An "airline baby" whose father worked with British Airways, Charles enjoyed an exciting childhood, moving homes every few years: Bahrain, Mexico City, Byblos, Miami, Cairo and Beijing. After completing a four-year degree in hotel and restaurant management at Oxford Brookes University in the UK, he joined the front desk at Four Seasons Hotel London at Park Lane. "I graduated on Friday, joined Four Seasons the Monday after – and have never looked back since," he smiles.
With a rapidly-progressing career in hotels, the whirlwind travels continued. After London came a stint at The Pierre in New York (then a Four Seasons hotel), followed by Four Seasons Resort Nevis, where his daughter Grace was born. The next promotion took him eastward to Singapore, then Chiang Mai, where the family became complete with the arrival of baby Florence. As Resort Manager at Four Seasons Resort Lanai, he played an instrumental role in the property's dramatic and award-winning transformation, then spent the next few years at Four Seasons Orlando at Walt Disney World Resort.
Across locales, properties and teams, the key to Charles' success has been his solution-focused approach, founded on the conviction that every challenge, no matter how big, has a positive resolution. Along with its fair share of adventure, this lifestyle has also given him a "global citizen mindset," creating a deep appreciation for the cultural diversity that exists in our world.
What's the most important lesson he's learned throughout the years? "It's my sole responsibility to adapt to a new location. I think that's particularly true in the workplace. When you're in a leadership role, it's easy to walk in and expect the team to reshape itself around you – but if you're nimble and can adapt to them, that works so much better," he says, emphasizing that a leader's role is to make thoughtful improvements so team members can bring their best selves to work.
For Charles, mutual respect and care form the bedrock of any successful transition. They also happen to be the reasons behind his decades-long tenure at Four Seasons. As he reflects, "Time and time again, I've witnessed the company's commitment to its people and to doing the right thing." The brand's leadership in the market is another source of fulfilment: "I genuinely enjoy operating at this level of the luxury hospitality business. It's demanding and there's little room for error, but that's what makes it exciting and, ultimately, satisfying," explains Charles.
Enamoured with the history of this great ancient city and the deep appreciation for the culture, Charles looks forward to exploring Cairo's hidden gems, local cuisine and in curating memorable guest experiences infused with warm Egyptian hospitality. "I can't wait to incorporate a magical Cairene adventure to the future stays of our guests, especially with the highly anticipated opening of the Grand Egyptian Museum later this year; from there opportunities are endless to create a one-of-a-kind experience," says Charles.
When he's not at work, Charles loves to spend time with his family, be it playing sports with his daughters, cooking a meal together with his wife, or enjoying a day out in the countryside.
---
---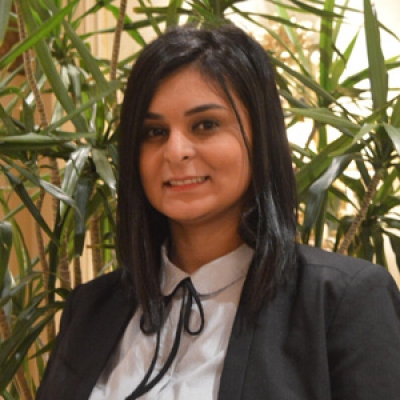 Mariam Mohsen
Digital Marketing Manager
35 El Giza Street
Cairo, 12311
Egypt
---
Four Seasons Hotel Cairo at The First Residence
PRESS KIT

Visit Four Seasons Hotel Cairo at The First Residence Website