Back to Main
Four Seasons Hotel Cairo at The First Residence
35 Giza Street, 12311 Giza, Cairo, Egypt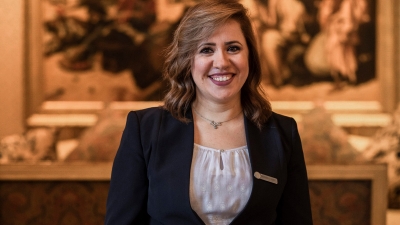 Farhana Nady
Tea Lounge Manager
"I chose to work in hospitality because I love connecting with guests and making them feel at home."
Four Seasons Tenure
Since 2004
First Four Seasons Assignment: Waitress - Four Seasons Hotel Cairo at The First Residence
Employment History
Four Seasons Hotel Cairo at the First Residence
Place of Birth
Language Spoken
Arabic, English and Spanish
"My first job was as a waitress and now I am the Manager at the Tea Lounge,"says Farhana Hady of her role at Four Seasons Hotel Cairo at The First Residence.  "My work at Four Seasons has made me what I am today. It taught me a great deal of passion, drive and coaching skills."
Farhana's laugh is so infectious, everyone at work nicknamed her "Happy" (Farhana means "happy" in Arabic).  She is very passionate about working in the food and beverage department that she carefully selected to run the The Tea Lounge, which serves the Hotel's breakfast and operates an all day dining concept.
Known for her attention to detail she adds, "Every early morning for the past four years, I have had to double check the breakfast buffet and every station at least twice to make sure everything is in place and is extra fresh for our guests."
"I chose to work in Hospitality because I love connecting with guests and in making them feel at home."
Being a mother of two children, Farhana is all about maintaining a life balance, she always makes time for herself, her family and work. "When I dedicate time for anything, I make sure to utilise the time as much as possible and exert the maximum effort to make sure that I get the results that I wish for. I always seek perfection in every aspect whether personal or professional, ultimately making everyone around me happy."