Four Seasons Hotel Boston Unveils Art Collection
An eclectic collection of art and surprising design touches provide visual delight for guests
June 21, 2022,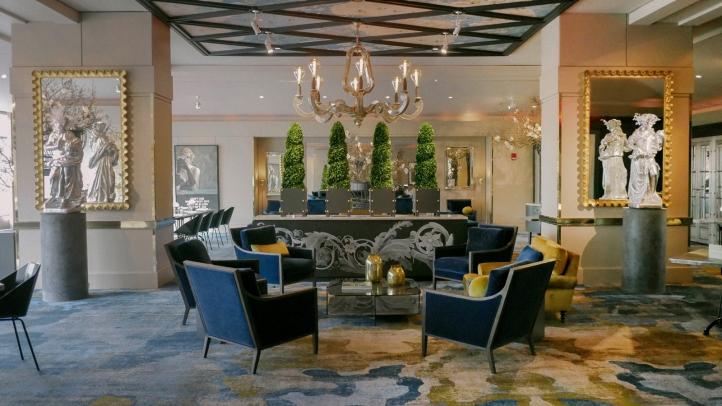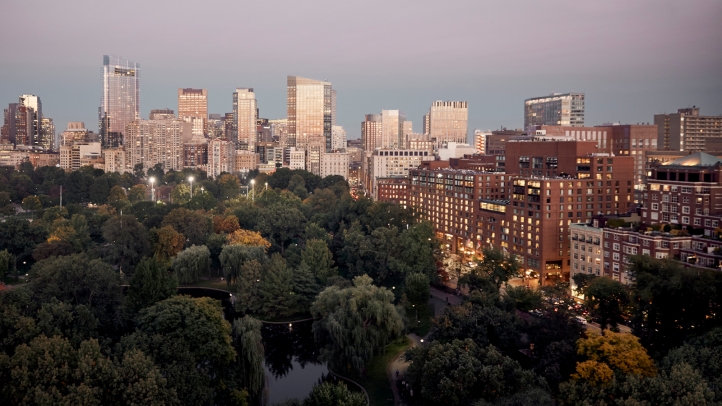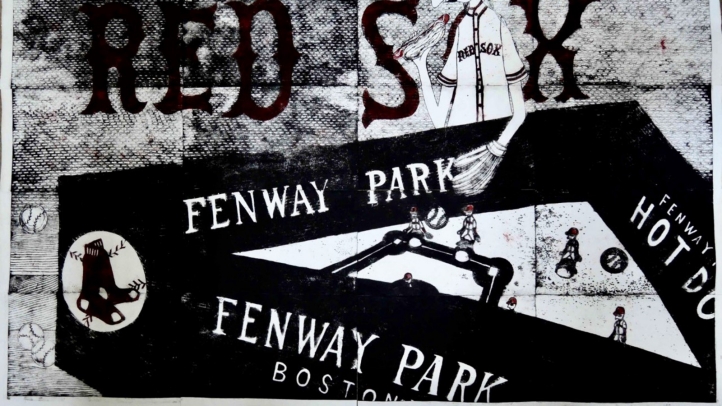 Guests of Four Seasons Hotel Boston now need not look further than the adorned walls of the urban retreat for artistic inspiration. The luxury Hotel recently unveiled a thoughtful curation of international artwork - and more - throughout the Hotel.
Four Seasons Hotel Boston Director of Creative Jim Peters has reimagined Aujourd'hui, the Hotel's restaurant and bar, private venue The Four on Five, and the Hotel lobby with artwork and design touches inspired by the character of each space. "We strive to continually innovate and create interest for our guests," explains Peters. "Refreshing the art and design around the property has added another layer of texture, always with thoughtful intention, to the guest's experience."
Aujourd'hui
Peters has transformed the Hotel's restaurant Aujourd'hui into a glamorous dining venue that doesn't take itself too seriously. Tapping into local talent, Peters commissioned local artist Iris Marcus to install botanical murals and silver tongue-in-cheek goddess statuettes appropriately depicting each of the four seasons to achieve a chic conservatory feel.
With floor-to-ceiling windows overlooking Boston's famed Public Garden, Peters designed the room to feel like an extension of the gorgeous park. A mirrored wall reflects the room's stunning views, and seasonal botanical décor installations quite literally bring the garden indoors. Currently featuring gardenia topiaries, this summer's garden story is woven across the Hotel through a backdrop of delightful delphiniums.
A perfect environment for guests enjoying elevated New England classic cuisine with a European twist by acclaimed Executive Chef Patrice Martineau, Aujourd'hui is further adorned with artwork sourced from DTR Modern Galleries, the largest gallery on the East Coast. The curated collection features artists that are established, showing around the world, and definitive in their style.
Pieces include:
I Don't Care What Anybody Says About Me by The Connor Brothers
UP The Souls on Jacob's Ladder Take Their Flight by Damien Hirst
Vermeer by Juro Karlik
Yeah Really? by Rainer Lagemann
Untitled (Butterflies) by Hunt Slonem
"There is a confidence and refinement in each artwork's execution, whether through the bold phrases and piercing glance of the Connor Brothers painting or Damien Hirst's punch of colorful butterfly wings against black. We see playfulness (Lagemann's sculpture pose), intrigue (Kralik's tribute to The Girl With a Pearl Earring) and romance (Slonem's expert use of rich gold and red oil paint). This collection offers stimulating variety that is also easy to dine with," explains Miranda Girard, Gallery Director, Nantucket & Boston.
The Four on Five
A secluded private wing of event rooms within the Hotel's guest rooms, The Four on Five offers a posh club-like atmosphere. In collaboration with Gurari Collections, an unusual gallery located in SoWa art and design district in the South End of Boston with the "inventive mind" as its overarching thematic intention, the Hotel has curated a collection by artist Mitsushige Nishiwaki. With art exhibited in Japan, France, England, and the United States, Nishiwaki's spirited etchings provide an imaginative use of iconic urban scenery, characterized by a seemingly naïve "outsider art" point of view. His technique is textured and bold, yet delicate and whimsical.
Some of the 26 copperplate Nishiwaki etchings on display include:
Le Cake au Chocolat
America
Red Sox
Tour de France
Lobby
The special design touches continue throughout the Hotel's lobby. Marc Hall's seasonal florals welcome guests of the luxury hotel. Rainer Lagemann sculptures entitled Climber Sophia and Climber Daiane, metal figurative forms designed to at once convey strength and beauty, also enhance the space. To perfect the guest sensory experience, Peters has installed a Bang & Olufsen digital record player with a curated collection of vinyls that guests can choose from to suit their mood.
---
---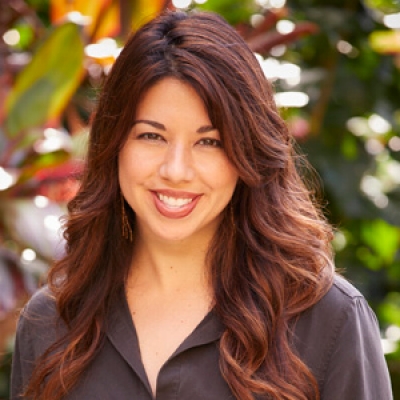 Crissa Hiranaga
Senior Director of Public Relations and Communications
200 Boylston Street
Boston, 02116
USA