An Inspiring Design Journey at SÉZANNE, the New Dining Destination at Four Seasons Hotel Tokyo at Marunouchi
June 8, 2021,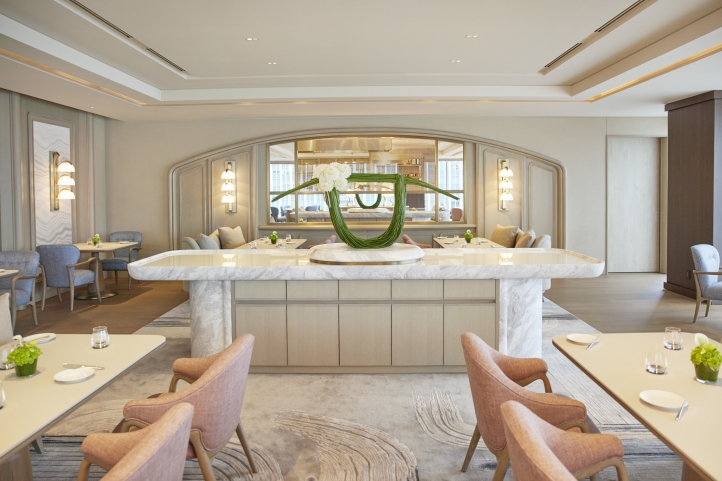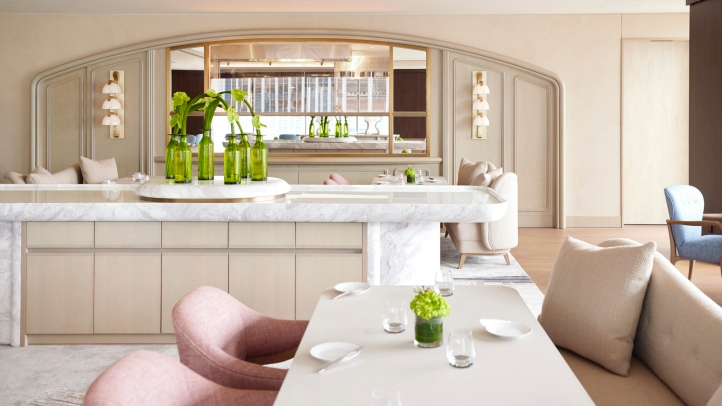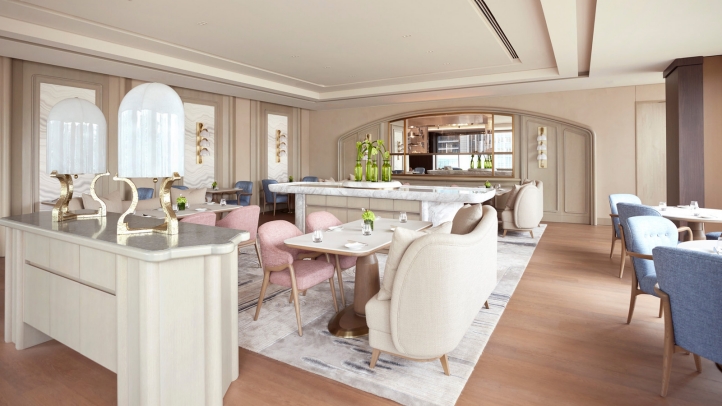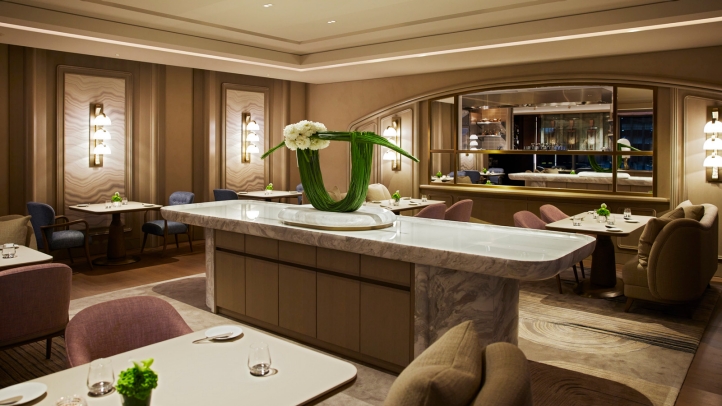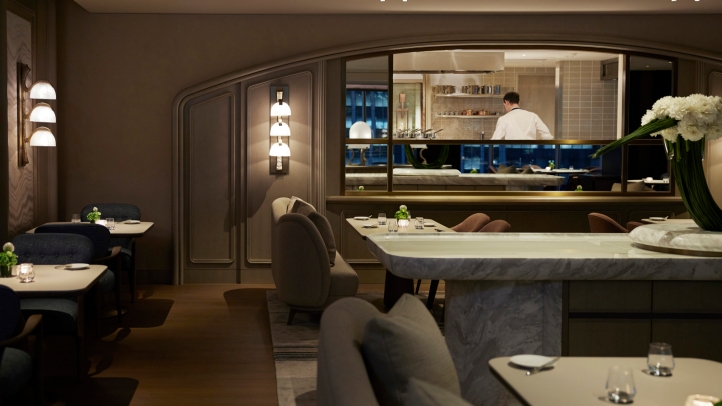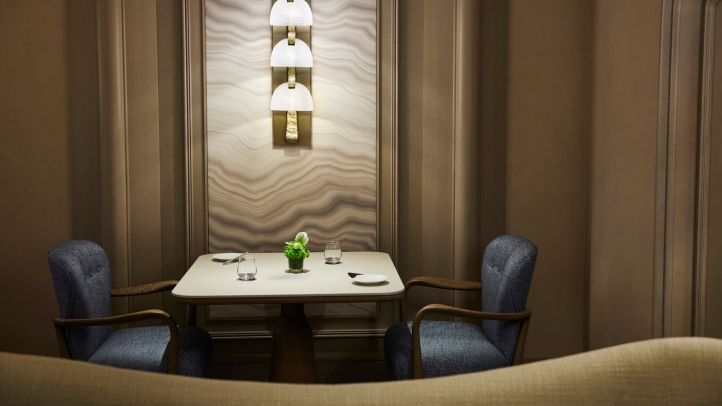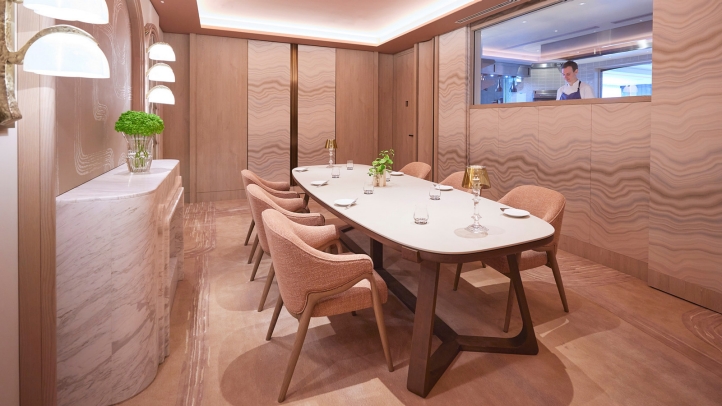 As Four Seasons Hotel Tokyo at Marunouchi prepares to unveil Tokyo's most-anticipated new dining destination, the excitement in the air is palpable. The brainchild of an 18-month collaboration between Chef Daniel Calvert from the UK and Hong-Kong-based architect André Fu, the epicurean hub will feature two distinct dining venues: SÉZANNE, a French fine-dining restaurant, and MAISON MARUNOUCHI, a lively French bistro.
SÉZANNE promises a singular blend of gastronomy and design, seamlessly woven together to engage the palate and the gaze alike. The dynamic, technique-driven French cuisine is crafted by Daniel, who previously led Belon in Hong Kong into the ranks of Michelin as well as to the #4 spot on Asia's 50 Best Restaurants list.
Complementing the culinary offerings are thoughtfully-envisioned interiors, brought to life by André Fu Studio. As the designer of MOTIF, the Hotel's former French restaurant, André came to the project with a close knowledge of Four Seasons as well as the destination. Drawing on the boutique nature of the 57-key property, he has created an ambience that is intimate, subtle and deeply personalized.
"I wanted to reflect the 'hidden gem' sensibility of Four Seasons Hotel Tokyo at Marunouchi," explains the acclaimed architect. "My vision revolves around creating a duet of dining experiences that are set against the urbanity of its bustling Tokyo Station neighbourhood. The mindset here is about culminating a sense of escape from the city with two destinations that are highly contrasting and layered."
Who is André Fu?
Named Interior Designer of the Year in 2019 by Elle Decoration China, Designer of the Year in 2016 for Maison & Objet Asia and on Wallpaper*'s list of Top 20 Interior Designers, André Fu is Asia's most sought-after interior architect, celebrated for his captivating, original interiors.
For the past decade and a half, André's vision has been defined by a seamless alignment of cultural and design sensibilities, modern luxury, art and craftsmanship. A trained architect, his projects span scales and typologies, continuously bridging the gap between cultures. His creations range from an original furniture collaboration with Louis Vuitton's exclusive Objets Nomades collection, contemporary art galleries in Hong Kong, Tokyo and Shanghai, and major hotels and restaurants around the world including Villa La Coste in Provence, The Berkeley London, Hotel The Mitsui in Kyoto and Hong Kong's The Upper House Hotel.
What is the overall design concept for Sézanne?
"It has been a very personal project for Daniel and me. There has been a high level of candid dialogue and creative exchange in the process of realizing this poetic dining venue," says André. "The idea is to engage the senses, thus allowing Daniel's layered yet pure cuisine to take centre stage." At SÉZANNE, quiet elegance meets André's signature language of "relaxed luxury." Reflecting the dynamic European cuisine, the main dining area is fresh, contemporary and tactile – a welcoming salon that invites intimate conversations and cosy interactions.
What are some of the highlights diners will experience?
SÉZANNE evokes a genuine expression of modernity, freshness and purity. French panels in grey eucalyptus wood and French Lelièvre silk lining adorn the dining room – they appear to fold and unfold, creating intimate sections for each dining setting.
At the centre of the restaurant is a prominent decanter station, a solid Carrara marble island counter carved into an organic sculptural form. A floral installation by Nicolai Bergmann is also introduced, employing seasonal changes of floristry that combines western artistry with Japanese ikebana techniques.
Another highlight is SÉZANNE's kitchen, which can be viewed from two vantage points. In the main dining room, a French-inspired show window offers diners an intriguing glimpse into the team's culinary world, allowing a strong visual connection with the cookery process. Over in the private dining room, an elegant feature window brings in the energy of the kitchen. This exclusive private venue will host the interactive Chef's Table.
Are there any cross-cultural influences?
Drawing on his own multicultural background, André adopts a nuanced approach bridging European principles of beauty and Eastern qualities, traditions and modernity. A compelling hybrid aesthetic unfolds throughout Sézanne. At the Salon at SÉZANNE, French-style panelling and vintage-inspired velvet chairs from the André Fu Living collection gaze out at the most quintessential of Tokyo views – gliding high-speed Shinkansen trains and the city skyline beyond. Lamps by Hervé Van Der Straeten, a French artisan, line the walls. "The Salon at SÉZANNE is a vital part of the dining journey," notes André. "This is where guests will meet for early drinks, post-dinner desserts and nightcaps."
In the main dining area, the craftsmanship is impeccable yet understated, expressed through a carefully-considered range of materials and subtle design details. The hand-tufted silver-grey carpet combines Art Deco motifs with the artistry of sand patterns found in Japanese Zen gardens. Instantly, a sense of lushness and quietude is evoked – an intriguing contrast to the glittering city panoramas offered by floor-to-ceiling windows. The walls juxtapose the use of eucalyptus wood with mud paint – "an artisanal Japanese material that evokes a sense of wabi-sabi."
What about the colour palette and lighting?
To complement SÉZANNE's contemporary setting, André has employed airy hues and a selection of bespoke lighting. The refined colour palette is a blend of mineral blues, warm greys and dusty pinks. These effervescent colours flow into curvilinear silhouettes, providing a visual experience that is fresh and inviting. Meanwhile, feature decorative pendants adorn the dining room – they are made of solid cast textured bronze and translucent cloud glass. "The unique bloom glass shades are created through a painstaking process of design development. I hope each object within the dining room evokes a soft yet sculptural quality," says Andre.
Message from the General Manager
"Led by Daniel and André, our team has put together something very special for Tokyo's gastronomes," says Charles Fisher, General Manager of Four Seasons Hotel Tokyo at Marunouchi. "There is a rare thematic unity across the entire dining journey, from menus and tableware to seating and artwork. There has been extraordinary attentiveness to detail, a fluid give and take of ideas, throughout this collaborative process. The result is a culinary adventure that feels as refined as it is approachable."
SÉZANNE is scheduled to open on July 1, 2021. To reserve a table, click here.
---
---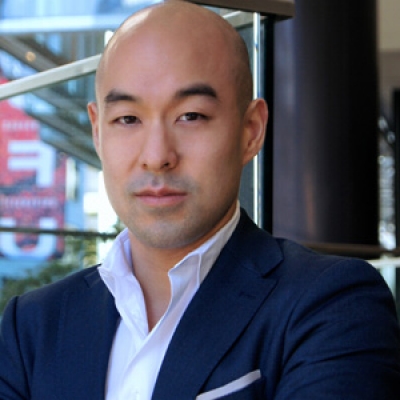 Shingo Kido
Director of Public Relations and Communications
1-2-1 Otemachi
Chiyoda-ku, Tokyo, 105-0021
Japan