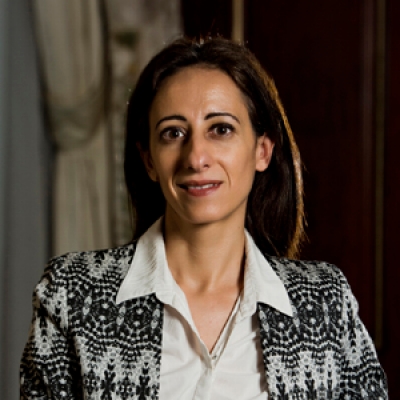 Rana Al Oran
Director of Human Resources
"One can't be self-centred in human resources. We're here to support people."
Four Seasons Tenure
Since 2016
First Four Seasons Assignment: Current
Employment History
InterContinental Hotels Group; InterContinental Jordan
Birthplace
Education
Bachelor's Degree in Economics, Jordan University, Amman, Jordan
Languages
"The way I see human resources is as partners supporting the business," says Rana Al Oran of her role as Director of Human Resources at Four Seasons Hotel Doha. And quite a role it is for her, too, with Oran wearing many hats – "often in the same day" – in leading all aspects of the employment experience for the Hotel's 680 team members.
Far from what she calls "the old pink-and-fluffy perception" of human resources, such as overseeing holiday parties and tracking vacation days, Oran acts as a strategic partner to enhance the business of the Hotel with eyes on employee-management relations, compensation and benefits, and attracting new talent whose dedication to quality and excellence has consistently earned Four Seasons accolades around the world. She champions changes in policy and leadership to assure that new managers are well received and new procedures are communicated and implemented smoothly. And she regularly fashions programs and activities to keep the team motivated, inspired and admired within the local hospitality industry and the community of Doha beyond.
Of course, there is always more. "One of the things that really keeps me attached to human resources is the role I play in developing capabilities in ways that ultimately advance careers," she says. "I take a lot of personal pride in doing that. One can't be self-centred in human resources. We're here to support people."
Oran's route to human resources was "pure coincidence," she says. After receiving a degree in economics from Jordan University in Amman, she sought a position in finance with the local address of an international hotel group and was told they needed her in HR. "I had no idea what HR did in a hotel. I didn't know about all the work that is done behind the scenes." So she said, simply: "Okay, I'll try it."
Result? Fourteen years with the international hotel group, which eventually promoted her to area director of human resources first for Jordan and Palestine, then for Jordan and Lebanon. "I have never regretted my decision," she says. "If I had the opportunity to do it over again, even at double or triple the salary, I wouldn't go into finance. I'd stick with HR."
Oran joined Four Seasons Hotel Doha at the start of 2016 after her husband, Ahmed, had to relocate to Qatar for his work in the medical industry. After 14 years with the same hotel group, it took Oran some time to get used to Four Seasons way of doing things. But not that long. "At its base, the hotel industry is the same. We all look after guests and provide quality services, but each company does it their own way."
The distinction with Four Seasons, she says, lies in "the human factor" at the heart of the way Hotel teams interact with guests. "The culture of the company, the way we all take care of each other, eventually reflects on the service we provide and guests' inclination to come back." It's something Oran keeps front-of-mind when recruiting new team members for the Doha property. "We're looking for Four Seasons-quality employees, and that's all about attitude," she says. "Skills will come. But attitude and behavior are impossible to teach."
Asked what she enjoys during her downtime, Oran just laughs. "I hope I have more of it someday!" Busy at work and with family, including two boys, she really just likes to "sit, chill and relax."
Of course, her HR responsibilities offer plenty of human interaction and excitement. Oran's 10-person department regularly plans communications meetings, social activities and learning and development programs. Monthly theme lunches offer every department the opportunity to come up with its own theme, while for 2016 National Sports Day in Qatar, Oran's department coordinated a tournament for local 5-star hotels. How did Four Seasons Hotel Doha do? "First place in football and basketball," she recalls. Score!
Meanwhile, distinct from hotels with mostly local staffs that have employed Oran in the past, there are 52 nationalities affected by her human resources initiatives at Four Seasons Hotel Doha. "That came as a complete surprise to me, and I'm really enjoying getting to know more about other cultures," she says. "The great thing is they're all united by Four Seasons culture. At the end of the day, we all speak the same language."