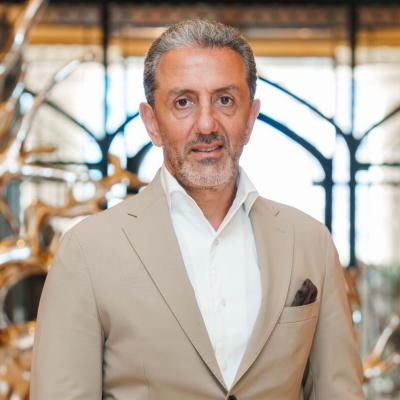 Shadi Suleman
"At end of the day, the most important thing for me is to connect with guests on a personal level and create a bond with the team to encourage them to do the same."
Four Seasons Tenure
Since 2002
First Four Seasons Assignment: Front Office Manager, Four Seasons Hotel Riyadh at Kingdom Centre
Employment History
Four Seasons Hotel Alexandria at San Stefano; Four Seasons Hotel Doha; Four Seasons Hotel Istanbul at the Bosphorus; Four Seasons Hotel Damascus (formerly a Four Seasons hotel); Four Seasons Hotel Riyadh at Kingdom Centre; Sahara Resort, Damascus, Syria; Abu Dhabi National Hotels Company Middle East, United Arab Emirates
Education
Bachelors Degree, Hospitality Administration and Management, Damascus University
Birthplace
Languages Spoken
Every hotel presents challenges for new managers – even successful ones. "When things are already running smoothly, the idea is what else can you do?" says Shadi Suleman, who was appointed as General Manager of Four Seasons Hotel Doha in 2021 and quickly recognized the fine line between maintaining what works and generating new ideas. "At end of the day, the most important thing for me is to connect with guests on a personal level and create a bond with the team to encourage them to do the same."
Suleman arrived clear-eyed on the successes that brought Four Seasons to its standing in Doha, because he helped build them during a previous 10-year turn at the beachfront property. When he departed as Hotel Manager in 2016, there were 5 five-star hotels in the city. When he returned five years later, there were 35. Still, the Hotel continued to lead. "Our clients have stayed with us because of all the memories they've made and the high level of service they've experienced here. Their connections have brought in others who are seeking the same."
The timing of Suleman's appointment couldn't have been more demanding: Just a little over a year ahead of FIFA World Cup Qatar 2022, an event sure to make the country and its capital the focus of the globe. He saw the World Cup as an opportunity for Four Seasons to "rock the city," as well as to build for the future. "The local government is smart enough to know that the World Cup is not a one-off, and that once people get a taste for Doha, they'll come back."
Indeed, Suleman encourages team members to keep the Hotel a standout not by competing with other properties, but by competing with themselves and listening closely to guests' needs. Part of the Hotel's identity is the way it treats guests as partners, he says. "We put ourselves in their shoes, ask for their feedback, and listen when they respond. Honestly, that's the key to our success."
Suleman was born and raised in Syria. Due to the nature of his father's work, he grew up experiencing a lot of restaurants and hotels, and he always admired the way the operations were organised and the rooms were kept so clean. "My parents wanted me to be a doctor or find a career in engineering, but I told them my passion was to be a server and see where it takes me."
Where it took him was first to a degree in hospitality management, then to a starting position as an elevator attendant at one of the first properties in Syria to hire from a hotel school. He later moved into rooms as a bellboy and quickly felt "right at home," enjoying the opportunity to chat with guests as he did their beds, and seeing the rooms division as offering a focused route to growth. Only later did he polish his culinary skills and wine knowledge, the better to set him up for advancement into executive-level management. "One year, I even utilised my 30 days of vacation to work in dining outlets for the experience. It was a lot to do, but it's something I'd recommend."                                       
After about a decade in the industry, however, Suleman wasn't enjoying himself as he'd hoped, and he began to contemplate changing careers. Then one day he saw in a newspaper that Four Seasons was looking to recruit people from Syria. He reached out and had "great chat" with a manager in Riyadh, who convinced him the hospitality career he was looking for lay with the company.
"I asked what was going to be different about Four Seasons. He said, 'we're only 40 hotels. If we wanted to expand like other hotel groups, we'd have 1,000 properties by now. But our main asset is our people. We grow them instead."
Suleman signed on at the Front Desk in Riyadh, the start of a run that took him to Damascus, Istanbul, and Doha before he became General Manager of Four Seasons Hotel Alexandria at San Stefano. His last major project before departing that property was leading a major renovation.  
Now back in the capital of Qatar, Suleman remains passionate about hospitality, using his downtime to keep on top of the industry he knows so well. "When I'm not working, my wife and I travel and stay in as many types of hotels as we can." He likes to snap photos of properties and features along the way, and he has compiled many great ideas to date.
"My wife always says, 'we're on vacation, let's just relax and enjoy.' I tell her 'this is what I enjoy!" he says with a laugh. "It's a great way to stay on top of things, and I bring back a lot of ideas for my teams."