Back to Main
Four Seasons Resort Dubai at Jumeirah Beach
Jumeirah Beach Road, Jumeirah 2, PO Box 128777, Dubai, United Arab Emirates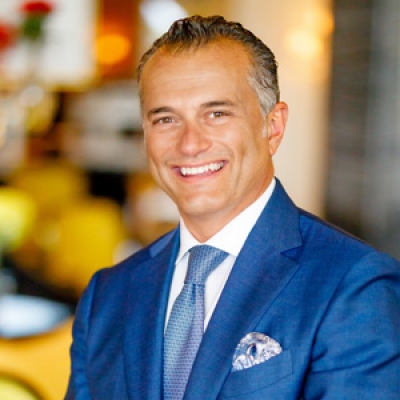 Leonardo Baiocchi
Regional Vice President and General Manager
"My background is in the rooms division but my hospitality interests vary widely. I love the creativity behind marketing. Being Italian, I'm volcanic: I erupt with ideas."
Four Seasons Tenure
Since 1993
First Four Seasons Assignment: Front Desk, Four Seasons Hotel Milano
Employment History
Four Seasons Hotel Istanbul at the Bosphorus and Four Seasons Hotel Istanbul at Sultanahmet; Palazzo Tornabuoni Private Club and Residences; Four Seasons Hotel Firenze; Four Seasons Hotel Budapest; Four Seasons Resort Sharm El Sheikh; Four Seasons Hotel London at Canary Wharf; Four Seasons Hotel Chicago; Four Seasons Hotel Milano; Regent Chiang Mai, Thailand
Birthplace
Education
Hotel Management Degree, Glion Hotel School, Clarens, Switzerland
Languages Spoken
If, as Leonardo Baiocchi suggests, "a happy staff is a great staff," then a management style that encourages happiness must be good management. As General Manager of Four Seasons Resort Dubai at Jumeirah Beach with additional responsibility for oversight of sister property Four Seasons Hotel Dubai International Financial Centre, Baiocchi employs just that, with "day-to-day, hands-on management" lifting the Hotel teams for the benefit of guests.
"I like to stick close to the operations, establish my presence, encourage the talent to correct themselves when they do something wrong, and praise them when they do a good job," he says. "It is all very natural. At the end of the day, if I can keep up morale, I'll have a happy staff."
Baiocchi arrived in Dubai from Istanbul, where he led both Four Seasons properties as General Manager for five years. It was great experience for the dual role he has now. "I was one of the pioneers at clustering Four Seasons hotels under the same management," he says. "There are a lot of benefits and cost efficiencies to synergising management of hotels under the same ownership. It makes a lot of sense."
Dubai has a character all its own. "This is a very energetic city with nice people, but the competition is brutal," he says, noting every hotel and restaurant brand "in the world" has staked out territory in the most populous United Arab Emirates city. "My personal challenge is to look at the competition and make sure Four Seasons stays above it." How so? "With creative ideas, good energy and, again, a motivated staff. I want them to be proud of where they work and know that Four Seasons is proud of them as well."
The two Dubai hotels are distinctive, "but they complement each other well," says Baiocchi. One is a relaxed resort with great architecture, swimming pools, spa and private beach club by the sea. The other is set in Dubai International Financial Centre, in Gate Village, the cultural heart of the city's federal financial free zone dotted with galleries, restaurants and boutiques. "There are many opportunities for us to combine the best qualities of each into memorable guest experiences," he continues. "As a manager, it's like having two children with distinct characters, priorities and feels. It's important for me to think about them differently even though they are under the same umbrella."
Born in Nairobi and raised Italian, Baiocchi grew up as "an expat living abroad." He was drawn to hotels back in the 1970s and '80s "because they were the place to meet." After initially pursuing political science, he switched to study hospitality in the Swiss tradition. He found opportunity right out of the gate, graduating from hotel school in December 1992 and landing at the front desk for the opening of Four Seasons Hotel Milano the following month. Later, he assumed his first General Manager position at Four Seasons Hotels Istanbul.
"So I'm pure," he says with a laugh of his one-and-only-employer career. "In this company, they preach promotion from within. I'm 'exhibit A' that it works!"
Baiocchi has enjoyed wide-ranging experience in far-flung destinations over the years, including on opening teams in Chiang Mai, Chicago, London, Sharm El Sheikh, Budapest and Florence. It's a career path he highly recommends: "To move forward in hospitality, it is really easier to do openings than join established hotels. You're not dealing with guests, but with architects. You have to have bigger vision. Then when you open the doors, you have to have even bigger vision to redo things. A couple of successful openings and I was the man."
Culturally and economically, Dubai is a world away from many of the places Baiocchi has called home over his years with Four Seasons. He feels right at home nonetheless, savouring time away from the job to build his 200-plus-piece collection of African art on travel to Africa and the US. "It just might be my pension someday." He also enjoys taking his Jeep four-by-four on spins over sand dunes outside of the city.
As Regional Vice President, in addition to the two Four Seasons in Dubai, Baiocchi also oversees Four Seasons hotels in Abu Dhabi, Cairo (The First Residence), Milan, Florence, and Taormina, Italy.