Back to Main
Four Seasons Resort Dubai at Jumeirah Beach
Jumeirah Beach Road, Jumeirah 2, PO Box 128777, Dubai, United Arab Emirates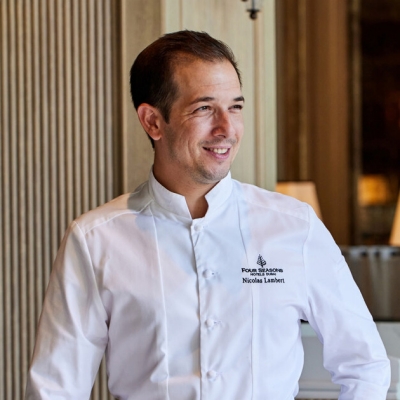 Nicolas Lambert
Senior Executive Pastry Chef
"I love working with seasonal ingredients."
Four Seasons Tenure
Since 2015
First Four Seasons Assignment: Pastry Chef, Caprice, Four Seasons Hotel Hong Kong

Employment History

Four Seasons Hotel Lion Palace St. Petersburg; Four Seasons Hotel Hong Kong
Education
Brevet Technique des Métiers (BTM); Mention Complémentaire Chocolatier – Confiseur (MC); CAP Pâtissier – Glacier – Chocolatier – Confiseur (CAP)
Birthplace
Languages Spoken
Born and raised in Epinal, France, Nicolas Lambert is an award-winning pastry-maker and chef who is globally renowned for creating rich desserts using a maximum of four textures and three flavours in each pastry. He is currently the Senior Executive Pastry Chef at Four Seasons Resort Dubai at Jumeirah Beach and Four Seasons Hotel Dubai International Financial Centre.
Coming from a family of boulangers and patissiers, the seeds of pastry making were planted in him since the age of two where he learned the craft and rigor of baking at his parents' quaint bakery in France.
Lambert's career started at the young age of 15 where he shadowed Philippe Torti at Pâtisserie du Musée at Epinal. He worked there as an apprentice while studying simultaneously.
After five years and three diplomas, Lambert made his mettle working across patisseries in Paris, Lyon and Cannes working under award-winning pastry chefs such as Christophe Michalak and Jerome de Oliveira.
It was while working with de Oliveira in Cannes that he met his wife and truly got exposed to working in massive production kitchens without compromising quality and managing a team of chefs.
In the meantime, the chef also collected trophies at local championships such as Festival National de Croquembouches and Prix Spécial Présentation Bonbons.
Eager to explore more of the world, Lambert took up a Pastry Chef role at the Michelin-starred Caprice at Four Seasons in the vibrant city of Hong Kong. He surpassed many challenges to succeed at the role, which included adapting to a new culture, managing a new team, and learning English from the ground-up.
His efforts were rewarded as he was elected the Best Pastry Chef in Hong Kong and Macau by Tatler Magazine in both 2016 and 2018. Lambert's impact on the city's culinary scene was indelible as he became the youngest ever Asia's Best Pastry Chef 2018 according to The World's 50 Best Restaurants.
Always eager for another challenge, Lambert took up the role of the Pastry Chef at Four Seasons Hotel Lion Palace in St. Petersburg, where he immersed himself in the Russian culture and interacted with incredible people.
In the summer of 2021, the award-winning chef swapped St. Petersburg's chilly weather for the warm beaches and tall skyscrapers of Dubai, becoming the Senior Executive Pastry Chef at Four Seasons Jumeirah and DIFC.
Guests can expect Lambert's signature desserts to balance seasonal and local ingredients that will truly entice all taste buds.