Back to Main
Four Seasons Hotel and Residences Fort Lauderdale
525 North Fort Lauderdale Beach Boulevard, Fort Lauderdale, Florida, 33304, USA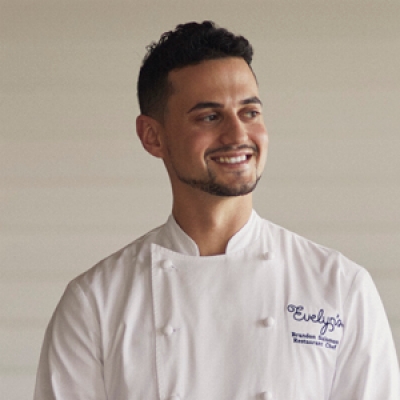 Brandon Salomon
Chef, Evelyn's Fort Lauderdale
"I live by 'the sky's the limit' approach by pushing past my comfort zone and reaching for the next opportunity to elevate my artistry and career."
Four Seasons Tenure
Since 2015
First Four Seasons Assignment: Four Seasons Resort Palm Beach
Employment History
Four Seasons Resort Palm Beach; The Ritz Carlton Hotel, San Francisco, California; Gaylord National Hotel & Convention Center, National Harbor, Maryland; Woodfield Country Club, Boca Raton, Florida; Restaurant Daniel, New York City
Education
The Culinary Institute of America
Birthplace
Long Island, New York, USA
Languages Spoken
At the helm of Evelyn's Fort Lauderdale is Chef Brandon Salomon who joins the Fort Lauderdale team from Four Seasons Resort Palm Beach, where he played a major role at the Five-Star, Five Diamond Resort's signature restaurant Florie's by three-Michelin-starred, World's Best Chef Mauro Colagreco. Evelyn's eastern Mediterranean meets Florida coastal cuisine shares flavour-rich dishes influenced by locality, seasonality, and culture. A native of Long Island, New York, born into a family of cooks, Chef Brandon fell in love with cooking at a young age and had the fortunate opportunity to be surrounded by a variety of cuisines and cultures.
After training at The Culinary Institute of America in Hyde Park, he worked at acclaimed restaurants and hotels in New York, Florida, and San Francisco. Now in Fort Lauderdale, Salomon is bringing the flavours of the Mediterranean to one of the world's top yachting destinations.
Brandon has always been around food, eager to assist his mother Kim and grandmother Sadie in the kitchen, which often felt like a dreamy Sunday morning with the unforgettable aromas of their famous tomato sauce filling the air and embracing their rich Italian heritage. Brandon's grandmother on his father's side, Yvonne, is Israeli and was born in French Morocco. Some of his earliest memories include her mezze table, carefully curated with flavours from the Mediterranean, as well as her famous harissa, which is his favourite hand-me-down recipe. There's no denying that family cooking has paved the way for the chef that Brandon is today with enough memories to continue to inspire him for years to come.
Chef Brandon began working at his grandparents' bakery as his entryway into the hospitality industry at the age of 12. After training at The Culinary Institute of America in Hyde Park, Chef Brandon worked at acclaimed restaurants and hotels in Washington, DC, New York, Florida, and San Francisco. In 2015, he joined Four Seasons Resort Palm Beach as a cook at the Resort's signature restaurant Jové Restaurant and Bar. In the summer of 2018, the Resort went through a multi-million-dollar renovation, giving Chef Brandon had the opportunity to join the task force at Four Seasons properties in Orlando, Chicago, and Montreal, gaining valuable operations experience first hand. Chef Brandon's journey led him to Menton, France where he had the opportunity to learn directly from Chef Mauro Colagreco at restaurant Mirazur, awarded the #1 restaurant in the world in 2019. He spent four weeks in the French Riviera with the Mirazur team mastering his craft and love for food, fuelling his passion for Mediterranean cuisine and lifestyle of sharing meals with friends and family.
Upon returning from his travels, back to Four Seasons Resort Palm Beach in the fall of 2018, Chef Brandon was appointed as Sous Chef for Florie's by Chef Mauro Colagreco.
As an innovator in the world of culinary, Chef Brandon is continuously looking for ways to innovate food by testing his imagination and culinary creativeness. His spare time is often spent exploring different restaurants and cuisines and curating his culinary artistry on social media, of which he has amassed a following of more than 17,000 on Instagram.