Back to Main
Four Seasons Hotel and Residences Fort Lauderdale
525 North Fort Lauderdale Beach Boulevard, Fort Lauderdale, Florida, 33304, USA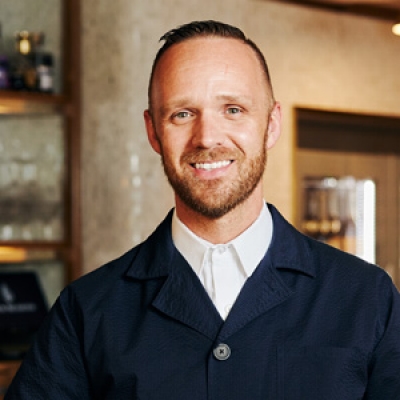 Matthew Dress
Lead Mixologist
"I'm always thinking about how ingredients will work together in the glass."
Four Seasons Tenure
Since 2007
First Four Seasons Assignment: Pool & Beach Server/Bartender, Four Seasons Resort Palm Beach
Employment History
Four Seasons Resort Palm Beach
Education
Associate Degree, Liberal Arts, Kent State University, Ohio; Associate Degree, Culinary Arts, Pennsylvania Culinary Institute - Le Cordon Bleu, Pittsburgh
Birthplace
Lakeside-Marblehead, Ohio, USA
Languages Spoken
There are many hospitality professionals conceiving cocktails along the Gold Coast of Florida, but there is only one Matthew Dress, and Four Seasons Hotel and Residences Fort Lauderdale is now home to his unique craft. "I still mix drinks behind the bar, but mostly I'm using my culinary expertise to create my own ingredients," he says of time spent in the kitchen as Lead Mixologist fashioning shrubs, infusions, bitters, and garnishes that can't be found anywhere else. "The things we use are always changing and evolving, so our cocktails are, too."
Mixing house-made ingredients gives Dress full creativity and control and serves experiences that guests will remember. "It's all about how you make things and what you do with them," he continues, likening his talent with flavours to that of a chef. "I'm always thinking about how ingredients will work together in the glass."
Dress has put a lot of thought and research into original cocktails for the Hotel's signature eastern Mediterranean-inspired meets Coastal cuisine dining experience Evelyn's Fort Lauderdale. He is focused on flavours of the Levant region – Syria, Lebanon, Jordan, Israel, Palestine, and parts of Turkey. Imagine a Daiquiri dashed with a za'atar mix redolent of thyme; an Old Fashioned sweetened with date molasses instead of sugar; and an Espresso Martini with cardamom.
There is precedence for his originality. A Four Seasons lifer, Dress joined the company straight out of college after studying liberal arts in Ohio and Le Cordon Bleu culinary arts in Pennsylvania. Arriving at the Palm Beach property in 2007, he started as a server and bartender at the Pool Bar, pleased with the opportunities it presented him to play with flavours and mix with patrons.
"I never wanted to be a chef, but I'd always been interested in cooking and taste. Bartending opened the door for me to use all I had learned on my own. I also have always loved being face-to-face and engaging with guests, which had an impact on why I preferred the front bar, rather than the back kitchen.  Bartending opened the door for me to use all I'd learned."
Dress stayed on at Palm Beach for nearly 15 years, along the way creating a garden-inspired cocktail menu for the signature bar at Florie's. The Botanical Guide presented an artful array of cocktails and low-or no-alcohol drinks inspired by Sunshine State citrus and flowers and herbs from the Resort's garden. Illustrated with original botanical artworks, the menu was a hit.
At Evelyn's Fort Lauderdale, he is inspired by the passion for gardening of the restaurant's namesake, the late local luminary Evelyn Fortune Lilly Bartlett – "the Lady of Bonnet House" – who maintained a greenhouse called the "Orchid Room". Dress's cocktail of the same name is based on a version of a daiquiri he came across on a tour of Bonnet House: It combines maple syrup and Rangpur lime with a touch of za'atar – a far cry, that is, from any Daiquiri Ernest Hemingway ever sipped.
It's also a great story. "I always encourage the bar team to share the special stories, origin, and ingredients behind our cocktails. Engaging the guests in the meaning of the mixology makes the cocktail and their experience more memorable."
Dress also puts a lot of effort into growing the talent on the team, working behind and elbow-to-elbow at the bar. He calls training "a huge part" of his job: "I'm constantly watching them and they're watching me. My goal is to lead the team to my level, and to teach them to be detail-oriented, right down to arranging garnishes with tweezers."
With the wellness focus of so many travellers these days, Dress leans toward health-conscious ingredient combinations, pairing coconut water with cucumber, for instance, acai with pomegranate, and carrot and ginger with turmeric in various drinks. He also does a lot of experiential programming for guests, leading hands-on instruction in ingredients, techniques, and food-and-wine pairings for them to continue their journey and dazzle their friends and relatives back home.
"Mixology classes have always been a part of my job. Leading educational mixology sessions over the years has motivated me to continue learning and perfecting my craft."
Active and engaged, Dress likes to live life to the fullest away from the Hotel. He has run 12 marathons and plans to run more, and he enjoys sampling new restaurants as they come on the scene in Fort Lauderdale. He also takes full advantage of opportunities to travel, having visit more than 40 Four Seasons properties during his time with the company. Favourites so far? "The Serengeti, Paris, and everything near wine regions. The best way for me to learn about cuisines and flavours is to taste them at their source."