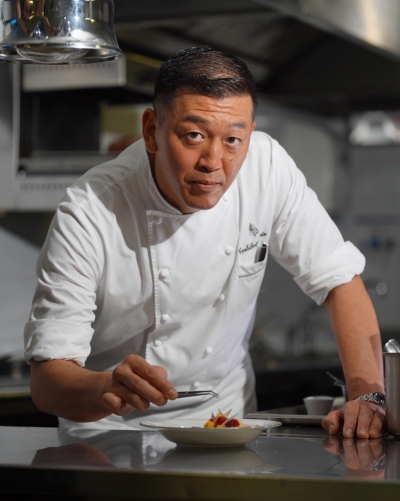 Toshikazu Kato
Executive Chef, Izumi
"We're staying ahead of the trends and always striving to exceed guest expectations."
Four Seasons Tenure
Originally hired 1998; now since 2007
First Four Seasons Assignment: Japanese Chef, Four Seasons Hotel Tokyo at Chinzan-so (formerly a Four Seasons hotel)
Employment History
Four Seasons Hotel St. Petersburg Lion Palace (formerly a Four Seasons hotel); Four Seasons Resort Dubai at Jumeirah Beach; Four Seasons Hotel Abu Dhabi; Four Seasons Hotel Doha; Four Seasons Hotel Mumbai; Kouseki Minami Aoyama Tokyo; Four Seasons Hotel Tokyo at Chinzan-so (formerly a Four Seasons hotel)
Education
Tokyo-Chorishi Technical School
Birthplace
Saitama Prefecture, Japan
Languages spoken
"It's like I am: authentic Japanese. I love that," says Toshikazu Kato, riffing on the technique that puts Nikkei cuisine on the menu of Izumi at Four Seasons Hotel des Bergues Geneva. Appointed in 2022 to follow the founding chef of the rooftop restaurant, Kato sees the keys to his role as respecting ingredients and meeting customer demands. "Izumi has been well-established as a big name in Geneva for several years now," he says. "I want our guests to know that we're staying ahead of the trends and always striving to exceed their expectations."
Aiding Kato on both of the above is the restaurant itself. Boasting "the best views in Geneva, no question," Izumi is a standout in the Hotel as well, indulging diners with amazing perspectives of the city and its lake. It is distinct in every way from its sister restaurant Il Lago, which serves Michelin-starred Italian closer to street level. "Izumi has an energy all its own. We want it to be top-of-mind for locals for easy drop-ins and for distinctive occasions for guests."
Izumi also has a lot of talent in the kitchen. Kato he leads a team of a dozen, most of them hailing from Europe and all skilled at Japanese cuisine. Geography doesn't matter much these days because sushi is popular all over the map, he says. "It has been really interesting for me to see chefs from France, Poland, and Portugal so well trained."
Kato leads the operation through inspiration and his own exacting technique, fashioning dishes with Peruvian-originated ingredients, plus an impressive selection of rolls and nigiris.
He sources as many local ingredients as possible, taking a farm-to-table and sustainable approach to every part of the menu. Scoring freshwater fish in a landlocked country can be challenging, but Switzerland has a many seasonal products, and Kato highlights local varieties of perch. He also taps a farmer, whose spread he has visited outside of Geneva, for beef and lamb to complement wagyu imported from Japan.
Growing up in the Kantō region of Honshu not far from Tokyo, Kato was inspired to cook by his uncle who operated an izakaya. He started working there part-time as a teenager and was drawn to "the atmosphere and intensity," despite his parents strong desire that he pursue another line of work. "This was 25 years ago. Chefs did not have the same level of respect back then."
While still in school, his grandmother told Kato about a Four Seasons in Tokyo – the company's first address in Asia, no less – which she had an inkling was headed for success. "She said it was the top-of-the line and encouraged me to apply for job. I had no idea what Four Seasons was then, so I went to dine there first. I was blown away."
Following his start in Tokyo, Kato jumped to other Four Seasons around the world. His first assignment in Mumbai was a "culture shock," he remembers. "Everything was new and different, and I didn't speak English. I cried every day." But the Hotel's Executive Chef, who hailed from Italy, knew what Kato was going through and encouraged him to give it time. "He opened my eyes. Six months later, I loved India."
Kato also had great experiences in Doha, where he spent four years, including two years as Sous Chef at the world's largest Nobu polishing skills he employs now at Izumi, and in St. Petersburg, where he first attained the title Executive Chef.
Now happy to be back on the roof in Geneva, Kato says he is too engaged at work to do more than visit local restaurants during his downtime. But there's always tomorrow. "I used to surf near Tokyo, so I really want to ski in Switzerland some day. I've been cooking in a hot climate for 15 years, so sooner rather than later, I hope."