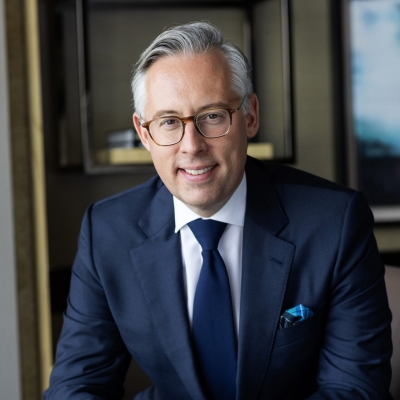 Christian Poda
Regional Vice President and General Manager
"The job of the hotelier is to create a great workplace for great people to deliver great experiences. When employees feel valued, so do guests."
Four Seasons Tenure
Since 1999
First Four Seasons Assignment: Receptionist, Four Seasons Hotel Berlin (formerly a Four Seasons hotel)
Employment History
Four Seasons Hotel Beijing; Four Seasons Hotel Jakarta; Four Seasons Hotel Pudong, Shanghai (formerly a Four Seasons hotel); Four Seasons Hotel Hong Kong; Four Seasons Resort Maldives at Kuda Huraa; The Regent Singapore (formerly a Four Seasons Hotel); Four Seasons Hotel Shanghai; Four Seasons Hotel San Francisco; Four Seasons Hotel Berlin (formerly a Four Seasons hotel); InterContinental Hotel Dallas; The Kempinski Bristol Hotel, Berlin; Palace Hotel Berlin
Birthplace
Education
Apprenticeship, Palace Hotel Berlin; Bachelor's Degree, Emil-Fischer Schule, Oberstunfenzentrum, Berlin; courses in Hotel Management, Cornell University
Languages
German, English, basic Mandarin
"I was always fascinated with hotels and loved the people engagement aspect of the industry," says Christian Poda, Regional Vice President and General Manager of Four Seasons Hotel Hong Kong, recalling the initial inkling that he might be suited for a career in the industry. Hospitality runs in Poda's family – grandmother, mother, father, "everybody at one point or another worked in hotels or restaurants." Meanwhile, growing up in Berlin back in the 1980s, Poda regularly strode past one of the grandest properties in the then-divided city, The Kempinski Bristol Hotel. "I liked the buzz, the sense of people from all over the world, and especially the elegance of hospitality. When it's time for me to choose a path, I thought, 'This is what I want to be part of.'"
Poda got his start with Four Seasons in his hometown. "I remember going into this really elegant small hotel and seeing the intricate attention to detail, elaborate floral arrangements, and everyone smiling like they were truly happy to work there," he says of his first impression of the former Four Seasons Hotel Berlin. "People behaved very differently. They called each other by their first names. It was totally different from a traditional European hotel."
With a goal "from day one" of becoming a general manager, Poda was drawn to the rooms side of hotel work, the interaction of welcoming guests really resonated with him the most.
Hong Kong is Poda's latest stop in Asia for Four Seasons, the conclusion of a journey that has taken him from Europe to the US and then onto Shanghai (twice), Singapore, Hong Kong, Maldives, Jakarta and Beijing. "I was always fascinated by Asia – it was an attraction and curiosity I can't explain. I really wanted to be here, and next you know, a decade goes by." In his regional leadership role, he is managing the flagship Hotel in Asia, in addition to overseeing operations in Four Seasons Hotel Guangzhou, Shenzhen and the imminent opening of Suzhou.
Hong Kong marks a significant homecoming for Poda. His deep admiration for the city and its culture started back in 2006 as he assumed the role of Director of Rooms at Four Seasons Hotel Hong Kong. This Asian melting pot with a mélange of influence from both the East and the West holds a special place in his heart as this is the city where he met his wife. During his post in Asia, they would frequent Hong Kong for its vibrant food and beverage scene, from world-class Michelin restaurants to authentic hole-in-the-wall local eateries.
Being at the helm of Asia's flagship hotel is as much a dream as a challenge but Poda has one key attribute on his side: the Hong Kongers. "I so admire their tenacity, exemplary work ethics and their positive attitude," he enthuses. "Hong Kong is a global world city that is sophisticated, modern yet steeped in tradition. I enjoy working with the team and our supportive owners to bring the Hotel to new heights, evolving in line with the dynamic city around it. Four Seasons Hotel Hong Kong is a property recognized as the pinnacle of luxury; it is essential to honour the past, respect the future and stay relevant at all times."
Among the many reasons Poda is pleased to have spent the bulk of his Four Seasons career in the East is "the people component." In Europe, one learns about traditional hotel operations, and the US is second to none at driving business and profits, he says. "Here it's the people, their exceptional service levels, and their can-do attitude."
"The job of the hotelier," he believes, "is to create a great workplace for great people to deliver great experiences to the guest.  The way your employees feel is the way your customers feel.  When employees feel valued, so do the guests. This is what we strive to achieve at Four Seasons Hotel Hong Kong - the property with seven Michelin stars under one roof and a record breaking six Five-Star ratings with Forbes Travel Guide 2022 Star awards."