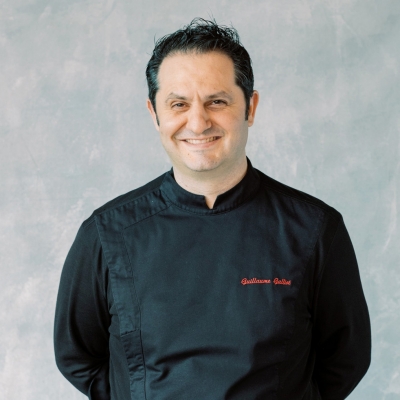 Guillaume Galliot
Chef de Cuisine, Caprice
"I believe in finding prestige in even the most humble ingredients, transforming them into unforgettable dishes."
Four Seasons Tenure
Since 2017
First Four Seasons Assignment: current
Employment History
The Tasting Room by Galliot, City of Dreams, Macau; Crystal Marrakech, Morocco; Raffles Hotel Beijing, China; Raffles Hotel Singapore; François Plantation, Saint Barthélemy; Jardin des Sens, Montpellier, France
Birthplace
Languages Spoken
French, English, Spanish, Mandarin (conversational)
No one would question that Guillaume Galliot is a French chef of the highest calibre of gastronomic tradition.  If his expertise lies in his classical French technique, his talent is found among the myriad flavours brought in perfect harmony on each plate.  At Caprice in Four Seasons Hotel Hong Kong, Galliot brings his vision of French cuisine: flavours of France dancing in unison with the tastes of the world.  
Born in the town of Chambray-Les-Tours in the Loire Valley, Galliot found his passion, and wanderlust, quite young.  Working under the twin brothers Chef Jacques and Laurent Pourcel at three Michelin star Jardin des Sens, Galliot expanded on his culinary school training, sharpening his skills while coming under the influence of the lighter touch of the Mediterranean.  While there, he worked for a time in pastry, an experience that left him with an appreciation of the precision of the pastry arts, and a deeper understanding of how dessert unifies with a full dégustation menu.
After stints consulting in New York and Saint Barthélemy in the Caribbean, the urge to see the world pulled Galliot east until he landed in Singapore, becoming, at the age of 23, the youngest sous chef in the history of the iconic Raffles Hotel.
The chance to keep exploring the tastes and techniques of Chinese cuisine eventually took Galliot to the Raffles Hotel Beijing, a fortuitous posting as it allowed him to be part of the 2008 Olympic festivities.
In 2010 Galliot received the opportunity to create a unique culinary experience he had building to throughout his career.  At The Tasting Room by Galliot in the City of Dreams, Macau, he drew on his world of experience to craft a truly modern French fine dining experience.  In the first year, the restaurant was recognised with one star in the Michelin Guide, an accolade he maintained for four consecutive years until achieving the coveted two Michelin star rating in 2016 and 2017.
At The Tasting Room, Galliot received further accolades including Hong Kong & Macau Tatler Best Restaurants Guide 2013-2017: Top Ten Restaurants; Asia's 50 Best Restaurants 2017 (#39); and South China Morning Post's Top 100 Tables 2013-2017.
With his appointment to Caprice, Galliot joined one of the most talented teams in one of the most breathtaking restaurants in Asia.
"Caprice has been one of my favourite French restaurants in Hong Kong. I have gone there often while I lived in Macau years ago. It is a privilege to be part of the Caprice team and have the opportunity to continue what Chef Vincent Thierry started and Chef Fabrice Vulin contributed during their tenures. The restaurant is beautiful, with a great open kitchen and an amazing harbour view from the dining room. Great produce, wine list and some of the best cheese selections in town. I'm really happy to be part of the dynamic team at Four Seasons Hotel Hong Kong."
Joining the Caprice team, Galliot ushered in a new era at the renowned, Michelin-starred restaurant. The modern Chinoiserie décor, Czech crystal chandeliers, and panoramic views of Victoria Harbour complete a dining experience further elevated through Galliot's inspired, globally flavoured French cuisine.