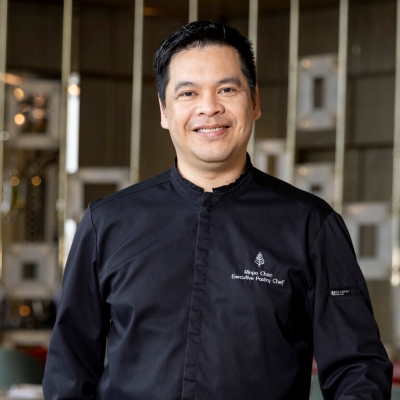 Ringo Chan
"My penchant for photography helped me develop a keen eye for colours, akin to the dessert creation process - it is about conjuring a beautiful picture that is palatable. When you orchestrate a slim team that is responsible for dessert production in most outlets in the Hotel, every compliment we receive is the result of our collective efforts. "
Four Seasons Tenure
Since 2005
First Four Seasons Assignment: Assistant Pastry Chef, Four Seasons Hotel Hong Kong
Employment History
The Regent Hong Kong (previously a Four Seasons hotel), Hotel InterContinental Hong Kong, Mandarin Oriental Hotel Hong Kong
Birthplace
Languages spoken
Cantonese, English, Mandarin
Awards
2014 Singapore FHA Culinary Challenge: Champion of "Battle of the Lion" (Hong Kong National Team, Support Team Member); 2013 West Australia Oceanafest in Perth: Gold Medal & Best Visiting Team, plus Best Dessert (Hong Kong National Team, Pastry Chef); 2012 Germany IKA Culinary Olympic: No.11 out of 34 Countries, Two Silver Medal (Hong Kong National Team, Support Team Member); 2012 Singapore FHA Culinary Challenge, The Gourmet Team Challenge: Gold Medal (Hong Kong National Team, Pastry Chef); 2009 Hong Kong HOFEX International Culinary Classic, Professional Wedding Cake: Gold Award
Chef Ringo Chan's history with Four Seasons goes back a long way. He joined the flagship of the Asia Pacific region at the pre-opening in 2005 as Assistant Pastry Chef and brought with him a wealth of knowledge.
He honed the skill of managing large and high quality banquets from his previous tenure at The Regent Hotel Hong Kong, formerly a Four Seasons hotel. Chef Ringo was recruited twice to be part of the team in Hong Kong's Handover Gala and Millennium Gala, both serving 5,000 guests - a task that required great planning, dedication and hard work.
After joining Four Seasons, Chef Ringo continued to break through and evolve as a treasured member of the Hong Kong National Culinary Team. Competing in what is known as the culinary Olympics, he joined numerous international competitions and scooped countless gold medals on behalf of the hotel and his hometown. Upon the completion of 2013 West Australia Oceanafest in Perth, one of the guests came up to him in tears and expressed that the winning dessert touched his heart dearly. This marked one of the most rewarding moments in Chef Ringo's career.
Chef Ringo recognizes that nurturing talent is fundamental in providing sublime quality and consistency. He frequents newly opened Four Seasons hotels to share his insights and encourages his team to represent the hotel in competitions - this is the greatest way to influence, motivate and exchange knowledge.
His current role as Pastry Chef primarily inspires and oversees a team of 17, accountable for creating desserts and pastries at The Lounge, Blue Bar, Room Service, Pool Terrace, Executive Club, the Boutique and all banquet events, as well as baking artisanal bread for Caprice and for all outlets in the Hotel.
Out of all dessert creation, Chef Ringo's passion lies in crafting wedding cakes, something delicate that entails maximum attention to detail and patience to complete. Crafting an ideal wedding cake that reflects what the couple desires brings him a great sense of satisfaction.