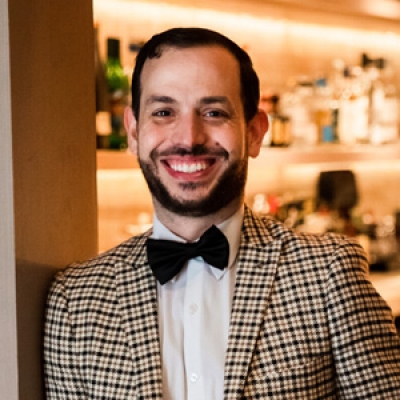 Johnathan Jones
Beverage Manager
"Enjoying a proper cocktail, whether traditional or inventive, can be a great experience. Though there are a number of elements which can combine to make it truly transporting – the setting, the service, the glassware, and more. I like to create the perfect combination of these things to make someone's cocktail experience extraordinary."
Four Seasons Tenure
Since 2022
First Four Seasons Assignment: Beverage Manager, Four Seasons Hotel Houston
Employment History
MAD, Houston; Loch Bar & Ouzo Bay, Houston; Anvil Bar and Refuge, Houston; Baptiste & Bottle, Chicago; Broken Shaker, Chicago
Education
Associate in Science Degree, Interdisciplinary Studies, Lamar University
Birthplace
Languages Spoken
An instrumental personality in Houston's growing cocktail scene, Johnathan Jones has worked in some of the city's most acclaimed bars and restaurants. As known as he is for his ability to envision and create, he's equally known for his warm personality and vibrant style.
A native of Lake Jackson, Texas, Johnathan attended Lamar University where he earned his Associates of Science degree. A single visit to James Beard-nominated Anvil changed the course of Johnathan's life, and rather than pursue his degree in early childhood education, he chose to venture out to follow his passion and begin his career in hospitality. As a bartender at Anvil Bar and at Refuge, he developed his skills as a master of the craft, delighting guests with a menu of more than 100 cocktails. Two years in Chicago were spent at Broken Shaker and Baptiste & Bottle, before returning to Houston for a second stint at Anvil Bar, where he oversaw batching, inventory, and seasonal menu development. Johnathan then moved on to Loch Bar and Ouzo Bay, where he created the cocktail and spirits menus at both locations as beverage manager. In 2020, Johnathan took the position of beverage director at MAD, where he helped to rebuild the bar, and oversaw the new menu development, while also acting as an operations manager. This valuable experience at some of the country's top bars led Johnathan to Four Seasons Hotel Houston as Beverage Manager, where he oversees menus and operations of the beverage programs at Bandista, Toro Toro, Bayou & Bottle, the Pool Deck, and In-Room Dining.
"I love the buzz of the Hotel, the different venues, the flow of guests, and working with such an incredibly talented team of hospitality professionals who do anything and everything to make for great experiences."
Johnathan is the proud papa to his cat Perseus. When not working, he enjoys gardening, PC gaming, and Manga.