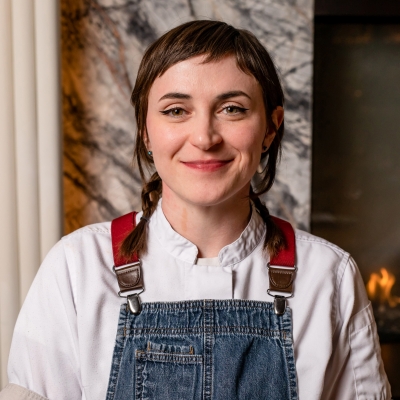 Krystin McCarley
Executive Pastry Chef
"I'm so proud that my hometown has become one of America's great cities. The diversity here, and the incredible blend of people and cultures is really special. And the food is definitely no exception!"
Four Seasons Tenure
Since 2022
First Four Seasons Assignment: Current
Employment History
Café Leonelli, Houston; Goodnight Hospitality, Houston; Chameleon Group, Austin; Jeffrey's and Josephine House, Austin; Lamberts, Austin; Quack's Bakery, Austin; La Petite Grocery, New Orleans; Bourbon House, New Orleans; Boulette's Larder, San Francisco
Education
Superior Patisserie Certificate – Le Cordon Bleu, London
Birthplace
Languages Spoken
A Houston native, Krystin McCarley has found her way home as Executive Pastry Chef of Four Seasons Hotel Houston. Growing up in H-Town, Chef Krystin often baked with her mom at home, which developed her love of the craft. With natural skills and a passion for the kitchen, she adventured to London to attend school at Le Cordon Bleu, where she earned her degree in culinary arts.
She then began her professional culinary career at Boulette's Larder in San Francisco before moving to New Orleans, where she held roles at Bourbon House and La Petite Grocery. In 2014, she made the move to Austin, where she advanced through the kitchens as kitchen manager at Quack's Bakery, pastry chef at Lamberts, and executive pastry chef at Jeffrey's, Josephine House, and Chameleon Group. Chef McCarley returned to Houston in 2020, where she worked at Goodnight Hospitality and Café Leonelli at the Museum of Fine Arts Houston, before joining Four Seasons Hotel Houston as Executive Pastry Chef in 2022.
"I love creating dessert, knowing that it will be the last thing our guests eat that meal," says Chef Krystin. "It's likely no surprise, but I'm a big fan of finishing with something sweet."
McCarley speaks English and some Spanish, and is adoptive mom to Jasper, her pointer mix. In her spare time, she enjoys and gardening, home improvement projects, and campy 80s horror movies.