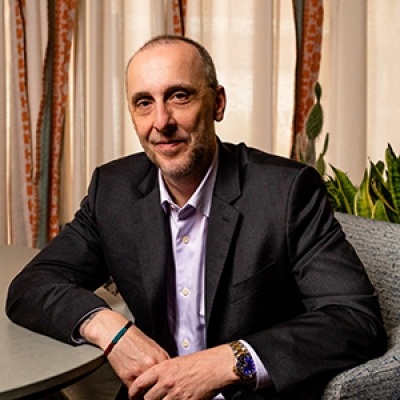 Paul Peddle
Director of Food and Beverage
"As a long-time Texas resident, I love living and working here in Houston. The diversity of the city, the variety of amazing ingredients, and the friendliness of the people all come together to make this a really special place to call home."
Four Seasons Tenure
Since 2021
First Four Seasons Assignment: current
Employment History
Dallas Country Club; Fairmont Palliser, Calgary, Canada; Fairmont Dallas; Fairmont Chateau Laurier, Ottawa, Canada; Fairmont Algonquin, St. Andrews, Canada; Fairmont Jasper Park Lodge, Jasper, Canada; Park Hyatt Toronto
Education
Culinary Arts Degree – Culinary Institute of Canada
Birthplace
St. John's, Newfoundland, Canada
Languages
A hospitality industry veteran, Paul Peddle is a native of St. John's, Newfoundland, Canada. His humble upbringing instilled an enormous appreciation and respect for food. "Growing up poor, I remember sitting down for Sunday dinner, knowing it would be our best meal all week - we were all so happy and quiet while we ate." He knew then how special memories created over food were, and that he wanted to pursue a life in the culinary world.
Paul graduated from the Culinary Institute of Canada with a degree in Culinary Arts, as well as earning a Red Seal certification. After graduation, Chef Peddle sharpened his culinary skills as he journeyed through hotels and restaurants across Canada and the United States.
From Nantucket and Florida, to Colorado and Jean-Georges in New York City, he perfected techniques, gained new inspirations, and experimented with local ingredients and cuisines. His career in hotels began as restaurant chef at the Park Hyatt in Toronto, where Chef Peddle fell in love with working amid the buzz of vibrant hotels. He then joined the Fairmont brand, and worked in various roles at Fairmont Jasper Park Lodge, Fairmont Algonquin, Fairmont Chateau Laurier, Fairmont Dallas, and as executive chef at Fairmont Palliser.
Paul joined Four Seasons in 2021 as Executive Chef of Four Seasons Hotel Houston, where he oversaw culinary operations for Toro Toro, Bayou & Bottle, Bayou & Bean, Bandista, In-Room Dining, and Events. He was promoted in 2023 to Director of Food and Beverage.
Fluent in English and Sign Language, Paul enjoys spending his free time with his wife Krystle, and kids Mason, Madison, and McKinley.