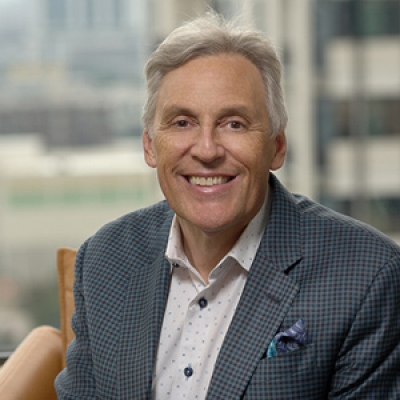 Tom Segesta
General Manager
"People come to our hotel to be taken care of. Our job is to create moments that matter for our guests."
Four Seasons Tenure
Since 1987
First Four Seasons Assignment: Director of Housekeeping, The Olympic Hotel (formerly a Four Seasons Hotel)
Employment History
The Ritz Carlton Chicago (formerly a Four Seasons hotel); Four Seasons Hotel Austin; Four Seasons Hotel Las Vegas; Four Seasons Hotel Newport Beach (formerly a Four Seasons hotel); Four Seasons Hotel Boston; Four Seasons Hotel Vancouver; The Olympic Hotel (formerly a Four Seasons Hotel); Ritz-Carlton, Atlanta
Birthplace
Education
Bachelor of Arts, Hotel Restaurant and Institutional Management, Michigan State University
Languages Spoken
Being at the far end of a linen chute may not be everyone's dream gig, but it sure worked for Tom Segesta, General Manager of Four Seasons Hotel Houston. "It was a great place to get to know the employees – all sorts of characters from all over the world," he says of his first hotel job. "They'd tell me their stories, their dreams. I realised the beauty of hotels is they give people the opportunity to accomplish things they never thought possible."
Duly hooked, Segesta headed to hotel studies at Michigan State University and then on to luxury properties across North America. His first Four Seasons job was Director of Housekeeping in Seattle; his latest is overseeing approximately 500 staffers with a decidedly supportive eye. Guests get the same treatment, of course. "Just because someone stays at Four Seasons doesn't mean they don't have worries," he says. "Knowing they'll see a smiling face at their door if they need something at 2:45 am takes a lot of the stress out of travel."
A 28-year hospitality industry veteran, Segesta recently spent four years in Chicago, during which time he oversaw the opening of The Dec Rooftop Lounge & Bar, the city's hottest nightspot. Under his leadership, The Ritz-Carlton Chicago (formerly a Four Seasons property) continued to be recognised among the country's premiere hotels. Segesta was the force behind revered programs including sunrise yoga high atop the Hotel's 75th floor and a one-on-one basketball experience with former Chicago Bulls player Toni Kukoc, which included the construction of a half basketball court in the Hotel's mechanical room for guests and NBA teams to use. Segesta's emphasis on innovation transferred to the banquet program too, whose creative cuisine and concepts such as rolling carts earned a reputation as Chicago's best of the best.
Prior to Chicago, Segesta spent time at Four Seasons Hotel Austin, where he directed the renovation of the spa and launched TRIO, the city's hottest restaurant debut in recent years. Together with the restaurant's designers, Segesta created an inviting space and a menu focused on delicious but simple food, with a twist. Says Segesta: "TRIO was a hit from the very first night."
Outside of the Hotel, Segesta enjoys spending time with his wife of 30 years, Robin, and their two sons, Hunter, who works for the Houston Rockets, and Barrett, who just graduated from TCU in Fort Worth Texas. An avid runner and golfer, Segesta also prioritises community involvement, serving on several boards and acting as an executive committee member for the Illinois Hotel & Lodging and the Magnificent Mile Associations, among others. In addition, Segesta is a founding member of Camp Kids are Kids Chicago (CKAKC), the first urban oncology camp for children ages 8-16.
Segesta's other great passion is sports – from cheering on his Michigan State Spartans and the Texas Longhorns (hook' em Horns!) to attending Houston Rockets and Astros games. Segesta enjoys being a spectator and draws inspiration from athletics that he brings to work each day. And with Houston being one of the nation's major sports cities, he'll surely find a lot of inspiration from game days indeed.
Happy to be back in the Lone Star State once more, Segesta uses his trademark mix of support, encouragement and ingenuity to build upon the culture of exceptional service that defines Four Seasons Hotel Houston.