Back to Main
Four Seasons Hotel Jakarta
Capital Place Jakarta, Jalan Jenderal Gatot Subroto Kav. 18, Jakarta 12710, Indonesia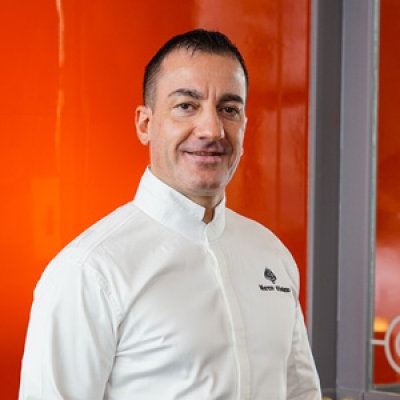 Marco Violano
Executive Chef
"My mom always cooking from the heart, so I call this "Mama-Style Cooking" and this is what I want to create and my guests to experience. I want them to feel the love in the food."
Four Seasons Tenure
Originally joined in 2000, in current position since 2019

First Four Seasons Assignment: Commis de cuisine, Four Seasons Hotel London at Canary Wharf (formerly a Four Seasons hotel)
Employment History
Four Seasons Hotel Beijing; The Club Saujana Resort (SLH) Boutique Hotel, Kuala Lumpur; Perbacco Singapore; Otto Locanda Ristorante Singapore; Pepenero Ristorante Singapore; Regent Singapore (formerly a Four Seasons hotel); Acapulco Restaurant Beach Bar; Four Seasons Hotel Milano; Four Seasons Hotel London at Canary Wharf (formerly a Four Seasons hotel); Tiggis Italian Restaurant, Manchester; Muscatel Restaurant, Cinzano;
Birthplace
Education
Hotel Management School Istituto Professionale Alberghiero Termoli (Italy) Qualification Obtained, Hotel Management, Diploma Completed 2000 and Accounts Commerce School Istituto Tecnico Commerciale (Italy), Qualification Obtained in 1994
Languages Spoken
Chef Marco Violano believes that the true Italian spirit is in feeding people well. The Executive Chef of Four Seasons Hotel Jakarta takes the cooking of Italian food very seriously.
Born in Puglia, Italy, his culinary inspirations began at home with his mother. "She is the best cook I know," he says. "When I was growing up, the house was always filled with the smells of her cooking. I always stayed close to her while she cooked, and over the years, observed her technique."
Chef Marco also had another great influence, a mentor that taught him that respecting food and its origin is the most important, and to keep it simple, not to overwork the product. This is what Chef Marco aspires to produce now, a blend of ingredients that work together because of their freshness and origin. This is evident in each of his dishes, which have a creative soul and a passionate flair, and yet at their core they are humble, tasty and Italiano. He is adept at creative menu development and is constantly bringing innovative takes on classic dishes, as it were to the table.
"I enjoy working together with the whole team at Four Seasons Hotel Jakarta to elevate the sense of culinary excellence that the Hotel has been able to establish in the city, in such a short time span, since its opening. I am of course most excited about what I bring to Alto Restaurant & Bar and relish the opportunity but also recognise the responsibility of serving the best Italian in town," adds Chef Marco.
As the Executive Chef, Marco Violano oversees the Hotel's culinary experience, including all five dining outlets, room service, catering and banqueting for special events.