Back to Main
Four Seasons Resort Koh Samui, Thailand
219 Moo 5, Angthong, Koh Samui, Surat Thani 84140, Thailand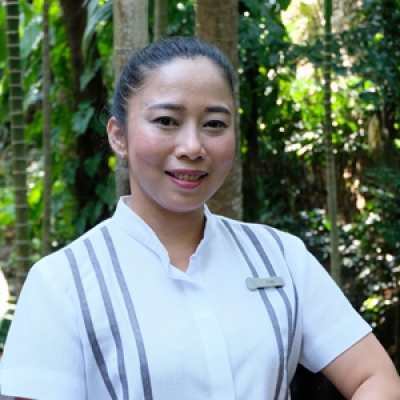 Kotchaphan Mekloy
"Wellbeing of the mind is a priority as it manifests into every other aspect of your life."
Four Seasons Tenure
Since 2010
First Four Seasons Assignment: Spa Receptionist at Four Seasons Resort Koh Samui
Employment History
Amari Palm Reef Koh Samui; Somsri Mansion, Lopburi, Thailand
Education
Bachelor of Education, majoring in Mathematics, Nareasuan University, Phitsanulok, Thailand; Technical certificate in English for Hotel Business, Sukhothai Thamathirat University, Bangkok, Thailand 
Birthplace
Languages Spoken
Always engaging and energetic, Kotchaphan Mekloy "Fan" as she is fondly nicknamed) has worked her way up the ranks to establish herself within the spa industry. Having spent more than a decade within the Four Seasons family, and more than 20 years as a wellness and hospitality professional, Kotchaphan brings her expertise in developing wellbeing experiences – specializing in natural therapies.
With a B.Ed from Nareasuan University, Phitsanulok and a Certificate in English for Hotel Business, Kotchaphan started out at the front desk, before transitioning to the spa and wellness aspect of the hospitality industry. A lover of all things ocean, she joined Four Seasons Resort Koh Samui in 2010 as a Spa Receptionist and was promoted to Senior Spa Supervisor within a year. Being quick to learn and eager to contribute, Kotchaphan has delivered in every role she has been tasked with. A course in Anatomy and Physiology at the Chivasom International Academy, Bangkok, brought further traction to her career, becoming Assistant Spa Manager.
Her pleasing personality and people orientation have contributed to her career successes, taking charge of the spa operations in the absence of a division head since 2017. "My motto is think well, speak well, do well," she smiles. "Wellbeing of the mind is a priority as it manifests into every other aspect of your life."
Two separate stints of cross-training with Four Seasons in the Maldives helped strengthen her global understanding of the spa industry as well as the marketing and positioning of the spa. She was selected as "Manager of the Year" in 2021, and also represented the resort at the APAC Global Wellness Week during a live Thai massage session.
Driven to succeed and with the ability to lead, Kotchaphan has helped her team and the Resort win accolades and consistently exceed expectations, with international recognition including "Best Luxury Beach Resort Spa of the Year 2022 – Thailand" by International Spa & Beauty Awards 2022, and "Best Spa Hotel in Thailand 2022" by Theluxuryeditor, to name a few. "My main objective is to build team spirit at the Secret Garden Spa," she says. "How the team feels translates to how our guests feel."