Back to Main
Four Seasons Resort Koh Samui, Thailand
219 Moo 5, Angthong, Koh Samui, Surat Thani 84140, Thailand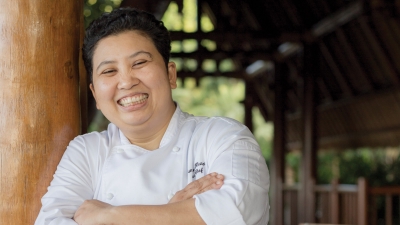 Sumalee Khunpet
"I put my heart into whatever dish I make and, believe it or not, the results seem to be amazing every time!"
Four Seasons Tenure
Since 2008
First Four Seasons Assignment: Junior Sous Chef
Employment History
Renaissance Koh Samui Resort & Spa; Lotus Pond, Koh Samui

Birthplace
Nakhon Si Thammarat, Thailand
Languages Spoken
Chef Sumalee Khunpet, or Jeab as she is also known, is one of those people who always has a relaxed, friendly and welcoming demeanour.  Chef de Cuisine at Four Seasons Resort Koh Samui, Jeab is a true example of perseverance and hard work, which pays off in her excellent food creations.
Native to Nakhon Si Thammarat province, one of the Southern provinces of Thailand, Jeab has been involved in the food industry from a very young age as her family sold home-made doughnuts and coconut roll wafers for a living. After completing her secondary school education in Koh Samui, Jeab joined a small hotel in Chaweng and worked there for 14 years before joining a local restaurant on the island where she mastered French and Thai-fusion cuisine. She landed her current position at Four Seasons Resort Koh Samui five years ago, and says that she feels grateful for its caring management, challenging tasks at work and, most importantly, the loving and talented team. "We have the best F&B team here at Four Seasons Resort Koh Samui," Jeab says with a proud smile.
At the beginning of her career, her first boss at the small hotel on Chaweng beach was her big inspiration. "She passed on her Thai and French recipes and cooking techniques to me. She also taught me to be proud of being a cook and helped me to gain confidence in the kitchen. From that point on, I put my heart into whatever dish I make and, believe it or not, the results seem to be amazing every time!"
"I also learned that a good chef needs to have a versatile set of skills," adds Jeab. "In the old days, we didn't have a lot of expat chefs on the island so a Thai chef had to be able to cook both Western and local food to thrive in the business."
When it comes to a tip for aspiring Thai cooks at home, Jeab suggests that they should have fish sauce, oyster sauce, sugar, garlic, shallots and Thai chili ready to hand in the kitchen. This minimal list of ingredients will surely let anyone cook a dish with the real taste of Thailand.
Jeab is one of the driving forces behind the menu at KOH Thai Kitchen & Bar.  Jeab focuses on authentic dishes from the island and further afield, incorporating typical local ingredients that make the cuisine of KOH as flavourful and authentic as it can possibly be. For KOH specialities, Jeab highly recommends tom som pla taling pling (clear fish soup with makrut lime leaf, galangal, bilimbi and lemongrass), pak liang phad kai (wok–fried bindweed with garlic and egg) and tom sikrong moo bai chamuang (pork rib soup with sour leaves).
"Next time you're feeling hungry for a taste of the island, don't forget to try these authentic Southern recipes if you are in the area," invites Jeab.