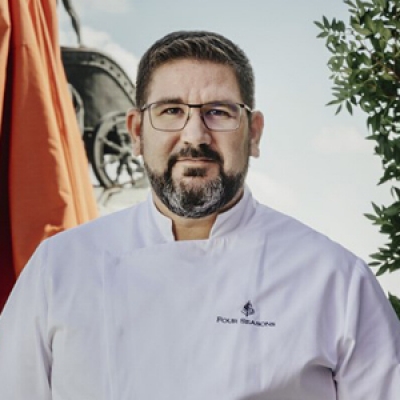 Dani Garcia
Consulting Chef, Dani Restaurant
Internationally acclaimed Chef Dani Garcia is the creative force behind the concept and menu of Dani, the rooftop restaurant at Four Seasons Hotel Madrid.
Dani García, who has been awarded three Michelin stars for his restaurant located at Marbella´s Puente Romano hotel, is one of Andalusia´s most internationally renowned chefs. Trained at the Malagan catering school La Cónsula - a gastronomic focal point in Andalusia – he began his professional career in 1996 under Martín Berasategui, with whom he says he shares his "cook´s DNA." During this period, Dani confirmed his vocation and passion for gastronomy, defining his cooking style and emphasising the importance of flavour as its signature component.
During his time at Tragabuches (1998-2004), where he began at just 25 years old and where he received his first Michelin star, Dani developed a cuisine that conveyed enthusiasm, youth and colour. Later, it was at the restaurant Calima, located in Marbella (2005-2013), where he reached maturity as a chef and mastered his profession, becoming the first two-star chef in Andalusia. This was a stage of great development and learning for the chef, as he masterminded a cuisine full of imagination, in which technique is at the service of flavour.
His arrival in New York in 2013 allowed him to become familiar with new business models, techniques and ingredients. This was his stage of greatest personal and professional growth, a year in which he opened his mind and widened the horizons of his cuisine, becoming the multicultural chef he is today. A year later, Dani García launched his most personal and creative period with the opening of his gastronomic restaurant, Restaurante Dani García, awarded with two Michelin stars. He also opened BiBo Andalusian Brasserie & Tapas, his most travel oriented gastronomic concept. These are two very different concepts, but with two types of cuisine connected and united by a common denominator: the product and Andalusian cuisine as a fundamental basis and their international character as a guiding principle.
In 2016, Dani began the expansion of his most informal concept with the opening of BiBo Madrid. This was an opening linked to the growth of Grupo Dani García, a brand formed by young and enthusiastic professionals that encompassed the two restaurants of Marbella and Madrid, Eventos Dani García, the catering line that brings its gastronomy to all national and international points, and Fundación Dani García. The latter is a non-profit organisation whose objective is the realisation of activities of social interest, research, education and dissemination of dietary habits as an instrument for the prevention, diagnosis and treatment of childhood illnesses.
In the summer of 2017, the chef opened Lobito de Mar, located in the golden mile of Marbella, where he was able to create a groundbreaking concept inspired by Andalusian recipes. It is a project with a great seafaring influence and where the product is the main focus.
Following his expansion strategy, in 2018 he launched his latest project together with Áreas. This was BiBO Flamenco Bar & Tapas, born from the brasserie concepts of BiBO Marbella and Madrid, a gastronomic space within the airport of Malaga where the gastronomic offer of Dani García is present under a format and culinary offering tailored to its location and its traveling public.
In 2019, Dani Garcia Restaurant had its last season in Marbella. The chef commemorated this occasion with his MADRE menu, the driving force of his gastronomic restaurant.  With this menu, the Andalusian chef summarises his enter professional career through his most emblematic, creative and personal dishes.
Additional ventures, along with the continuing expansion of Grupo Dani Garcia with new restaurants and other projects, including television appearances and work with Fundación Mapfre for the global incorporation of healthy life habits for children.