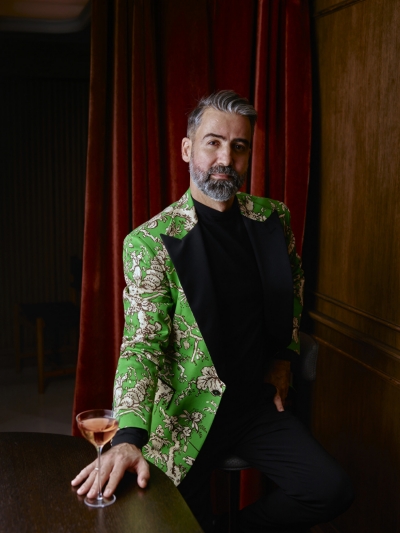 Miguel Pérez
Head Bartender, ISA
"When people arrive here in Madrid these days, they are looking for new and interesting cocktail concepts, not the same old drinks."
Four Seasons Tenure
Since 2020
First Four Seasons Assignment: Current
Employment History
Solange Cocktails & Luxury Spirits, Barcelona, Spain; Coca-Cola European Partners; Bros in Tiki, Madrid; The Shaker and the Jigger Blog; Columbus by Mario Sandoval, Madrid; Costello Cocktail Club, Madrid; Charly's Bar, Madrid; Museo Chicote, Madrid; The Club La Moraleja, Madrid; Restaurante Alkalde, Madrid; Apen Bar La Moraleja, Madrid
Education
Bar Master Reserve, IFE Cámara de Comercio de Madrid
Birthplace
Languages Spoken
"Sophisticated and elegant – that's my style." That's also how guests feel sipping cocktails created by Miguel Pérez and his team at ISA at Four Seasons Hotel Madrid. As Head Bartender of the stylish and inviting gastrobar, Pérez shapes cocktails with inspirations from the city, house-made ingredients, the bustling local bar scene that he helped create and is now taking to another level – and Japanese short-form poetry.
Pérez's "modern mixology" is one of the stars of the show at ISA. He takes cues from haiku as well as from Asian and Mediterranean flavours on the menu to fashion minimalist cocktails and low- and non-alcohol drinks with complex flavour profiles. Among concoctions to pair with artful sushi and other dishes is the gorgeous Geisha with Ketel One vodka, nitro cordial shisho-matcha, and white cocoa; and the vibrant Ōchādo with Choya plum wine, lacto-fermented purple carrot, and citrus.
Custom glassware lends striking visual appeal to every drink, while house-made products, some synthesized in Himiko Lab, a creative setting within ISA designed for mixological discovery, result in cocktails that can't be experienced anywhere else.
Pérez also counts the contributions of his bar team, which prepares ingredients, mixes drinks, and chats up customers as they enjoy. The team brings experience and techniques from across Spain as well as from Italy and France, he says. "I spend a good part of my time further developing their skills."  
Pérez's expertise and enthusiasm have been shaped over two decades on the local bar scene. That scene has changed profoundly of late, he says, thanks to the adventurous palates of international travellers. "When people arrive here in Madrid these days, they are looking for new and interesting cocktail concepts, not the same old drinks."
Born and raised in the capital city, Pérez got interested in bartending while still in his teens, drawn by the trade's opportunity for social interaction as much as the magic of mixology. "For me, bartending has always been all about meeting and talking with people," he recalls.
In 2014, he met Michelin-starred Chef Mario Sandoval at a cocktail competition. The two hit it off, and Pérez later managed the bar at a Sandoval restaurant, but not before they collaborated on the cookbook Cooktail featuring tapas, cocktail pairings, and deep dives into the flavours behind them. A reviewer for a food and culture website was very kind, calling Cooktail's artistic flair and flavour marriages "breathtaking to behold."
Among Pérez's last stops before joining Four Seasons was Bros in Tiki launched in partnership with his brother David to revitalize tiki cocktails, culinary, and the culture behind them in unexpected ways. He also spent six years as bar manager of Solange, a wildly popular, award-winning presence on the scene in Barcelona.
Now right at home with Four Seasons in the historic heart of the city, Pérez enjoys spending downtime checking out what's new around town, but also exploring the beauty of nature with his "amazing" wife of 20-plus years. "When we go out in Madrid, we're treated like family," he says. "When we get away from it all, we just like to relax."