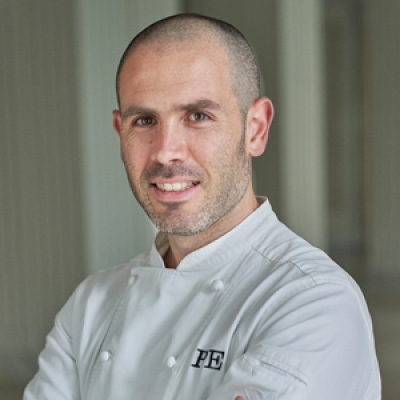 Pau Eche
Executive Sous Chef
"We really want to give guests what they want at a Four Seasons level, and we use every opportunity to personalize things."
Four Seasons Tenure
Since 2020
First Four Seasons Assignment: Banquet Chef, Four Seasons Hotel Madrid
Employment History
PUR Barcelona, Spain; FOC Restaurant Pte Ltd., Singapore; Catalunya Singapore; 99% MotoBar, Barcelona; Hisop, Barcelona; Fundació Alícia, Barcelona
Education
Technical Degree, Cooking and Gastronomy, Excola Superior d'Hosteleria de Barcelona, Spain; Dietetic Technician, IES Roger de Llúria
Birthplace
Languages Spoken
Spanish, Catalan, English
"When we speak of creativity, people often think we're talking about what's on the plate, but chefs do so much more than that," says Pau Eche, who really ought to know. As Executive Sous Chef, Eche lends a creative touch to every culinary operation at Four Seasons Hotel Madrid, especially in the kitchen. "Maintaining good relations with our chefs is so important to what I do. Leadership and inspiration are the real creativity."
Eche has a lot of people to inspire and lead. His focus is first on banqueting, creating menus for gatherings up to 350 people in some of the largest event venues in the city, as well as for the employee canteen. Everything is customized to individual tastes.
"I sit down and talk things over with clients. We really want to give them what they want at a Four Seasons level, and we use every opportunity to personalize things." He recalls creating a tasting menu for a wedding couple that desired only Catalonian products. "I'm from Barcelona, so I knew just what to do."
Beyond banqueting, Eche is on tap to support all onsite dining and drinking outlets. They include the Spanish brasserie Dani by local celebrity chef Dani Garcia; the gastrobar ISA serving Asian fusion paired with signature cocktails; the stunning snack-and-sweets spot El Patio; plus in-room dining and guest amenities. Like his expertise, the focus of Eche's support can vary widely: from finances and purchasing to menu concepts and guest relations, even working elbow-to-elbow with the 50-plus chefs in the kitchen.
There are also special requests. "All of a sudden, the Spa will need a quick menu, or I'll be asked to sit in on a photo shoot. Such things make this job so amazing."
A proud Barcelonan, Eche grew up cooking at home where meals were "full-on family things" that were not to be missed. "The table was always where everything happened." He came to culinary at age 16 after contemplating a career in adventure sports. "I ended up having plenty of adventures in the kitchen."
His first few years were very demanding with late nights and the knowledge that friends who pursued other careers were still living it up in college. So demanding, in fact, that Eche contemplated shifting gears to work in nutrition, something he had received little background on in culinary school. He even did an internship as a dietetic technician, which revealed to him how important it is for chefs to know what they're preparing.
In the end, he couldn't pull himself away from the kitchen, however. "I love working in restaurants – always have," he says. "Everything happens so fast: You do the plate, serve the guest, and get immediate feedback. There is nothing like knowing you've done a good job, and there is always something to build on to make the experience even better."
Eche enjoyed early success in his hometown, working closely with Alain Devahive, an alumnus of El Bulli, the temple of haute cuisine in Roses, Spain. When Devahive opened a new Catalan-themed restaurant in Singapore, he invited Eche to join as head chef. He went on to open three additional restaurants with FOC Group in Singapore. "We attracted a lot of Spanish talent. Everyone's mission was to make the restaurants the best."
After seven years in Singapore, Eche returned to Barcelona to open PUR headed by his mentor Nandu Jubany. Finally, in 2020, Eche moved on to Madrid where Four Seasons was opening in the heart of the city. The Hotel's Executive Chef had admired Eche's work and recruited him as Banquet Chef, his first step toward attaining his current position in 2022. "He told me they were launching the best hotel in Spain. I didn't have hotel experience at the time, but chefs are always looking for the next thing, so I was excited to be a part of it."
Whatever the setting, Eche remains admiring of his country's rich and varied cuisines and the products that shape them. People in Madrid eat differently than in Barcelona where so much is inspired by the sea, he says, but in the end it doesn't matter. "Good ingredients are easy to come by in both cities, and I hear that fish comes first to Madrid these days. So we're in the right place."