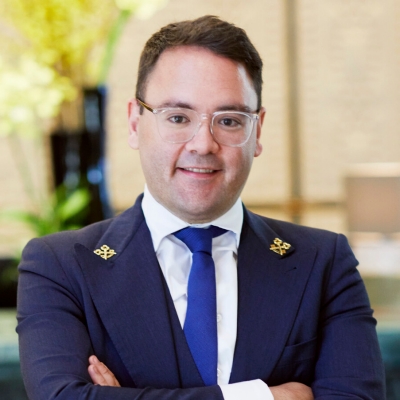 Raúl Bermejo Rodríguez
Chief Concierge
"Madrid is constantly reinventing itself, and we're on top of it. There's no need to fret over options. We'll find what's right for them, so they can just relax and enjoy the city."
Four Seasons Tenure
Since 2020
First Four Seasons Assignment: Current
Employment History
Hotel Ritz Madrid; Mandarin Oriental Hyde Park London; La Terrasse, Mâcot-la-Plagne, France; Hotel Villamadrid; NH Alcalá, Madrid; Willerby Manor Hotel, England
Birthplace
Education
Diploma in Tourism, Universidad Rey Juan Carlos, Spain
Languages Spoken
Spanish, English, French, German
As Chief Concierge of Four Seasons Hotel Madrid, Raúl Bermejo Rodríguez knows no end of authentic local experiences to give guests a true taste of the city. But he prefers to give guests the city they truly want to taste. "We want to personalise every stay and every request, and for that we really need to get to know people," he explains. "We could just book requests, but we'd rather engage guests to discover what they're after and how they'd prefer to experience it. Our goal is to suggest things that are unique and reveal sides of Madrid they may not know."
For instance? The Spanish capital is a dream destination for aficionados of Goya, and Museo Del Prado, in particular, has an impressive collection that is not to be missed. But Bermejo will also recommend options beyond the popular museums to broaden guests' horizons, such as Real Academia de Bellas Artes de San Fernando located right in front of the Hotel. "Our mission is to make people aware of the possibilities a city like Madrid offers," he says. "Most have no idea Goya was a member of the Academia."
Quite a Concierge Team
Bermejo oversees one of the largest hotel concierge teams in Spain: Eight concierges altogether providing Four Seasons-level service from the first desk guests see upon entering the Hotel. The desk is very dynamic, with up-to-date technologies at everyone's fingertips including iPads loaded with the Four Seasons App to facilitate direct connection with guests.  
Most of the Hotel's concierges belong to the Spanish chapter of Les Clefs d'Or – "Golden Keys" – the international professional organisation of hotel concierges with 117 active members in Spain and 4,000 in over 80 countries who share info and provide each other assistance as needed. "We really do follow the motto 'In Service through Friendship.' It's a very important resource for us."
The concierges also work with confidence because, like Bermejo, they have combed the city themselves. Everything they recommend they know, and what they don't know they find out in person, making connections and gathering contacts to guarantee guests satisfaction throughout their stay in Madrid. "You have to be a bit of an eccentric to be a hotel concierge," he says with good humour. "Every time I see something new, I check it out. I'm always looking for things for our guests."
Bermejo was bound for a career in hospitality from an early age. Growing up in Madrid, he got his first inkling of the significance of customer service from his parents, who operated a restaurant, learning early that the product is important, "but more important is treating people well."
"My Hobby is My Job."
After earning a tourism degree from a Spanish university, Bermejo took his talents around before landing a job at a historic five-star hotel in Madrid. The only position available was switchboard operator. "I said, let's go!" One month later, he became a concierge and immediately fell in love.
"I realised I was just there to make people happy, and that's what I wanted to do. I have something a lot of people never experience: My hobby is my job."
Do Four Seasons guests still need concierges to do that job when they can access a world of travel recommendations right on their smart phones? Bermejo says yes, noting that reviews on the internet tend to be generalised, there is no emotional connection – "that's really important" – and the access and experiences of random reviewers can vary widely.
"We want to build special relationships with our guests, so when they head out, our Four Seasons connections ensure they'll be very well looked after. You can't get that from a smart phone," he says. "Madrid is constantly reinventing itself, and we're on top of it. There's no need to fret over options. We'll find what's right for them, so they can just relax and enjoy the city."