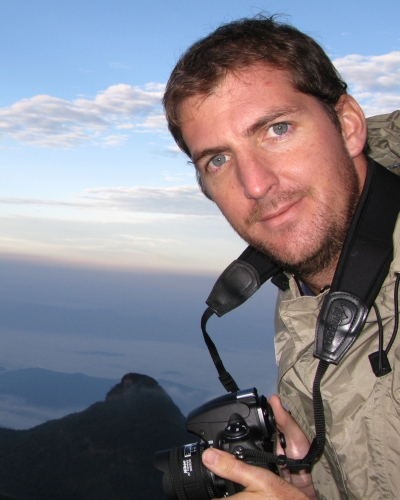 Guy Stevens
Chief Executive and Founder of the Manta Trust
"I always knew that looking at fish through the glass of an aquarium wasn't going to be enough. I needed to jump in the water and immerse myself completely."
Four Seasons Tenure
Since 2003
First Four Seasons Assignment: Marine Biologist on board Four Seasonss Explorer
Employment History
Researcher & Founder, The Maldivian Manta Ray Project; Marine biologist at Four Seasons Resorts Maldives; Self-Employed Consultant Marine Biologist; Education Assistant & Guide, National Marine Aquarium, Plymouth, Devon
Birthplace
Education
Bachelor of Science, Marine Biology and Coastal Ecology, University of Plymouth; currently studying for a PhD on the ecology of manta rays at the University of York
Languages Spoken
Raised on a farm in the hills of Dorset, UK, Guy Stevens was fascinated by nature from childhood, though it was the gift of a tropical fish tank at the age of eleven that sparked his passion for the underwater world. From that moment on, when asked what he wanted to do when he grew up, he would reply, "study fish!" And so began a path that would lead to him becoming a leading global expert on one of the largest fish on earth: the majestic manta ray.
It was while working as a marine biologist on board Four Seasons Explorer in 2003 that Guy had his first encounter with manta rays. Enthralled by their graceful, inquisitive nature, he was compelled to learn as much as possible about them.  In 2005, he founded the Maldivian Manta Ray Project (MMRP) – the first full time study of manta rays in the Maldives, based at Four Seasons Resort Landaa Giraavaru – working closely with the Maldivian government, local communities and business stakeholders to raise awareness and further protective measures in Maldivian waters. In 2011, motivated to replicate the Project's success globally, he founded The Manta Trust, a UK-registered charity dedicated to the worldwide conservation of manta rays and their close relatives.
Guy's conservation efforts in the Maldives have contributed to the creation of several Marine Protected Areas (MPAs) at key manta aggregation sites, most notably Hanifaru Bay, as well as the successful 2013 listing of manta rays on Appendix II of the Convention on International Trade in Endangered Species (CITES) and the full protection of manta rays in the Maldives in 2014. His work has also been featured in the National Geographic Magazine and more than a dozen TV documentaries. The MMRP has now documented more than 30,000 sightings of more than 3,700 mantas (making the Maldivian manta ray population the most intensely studied anywhere and placing the Project at the forefront of international manta ray research and conservation), while The Manta Trust has grown to become the world's leading manta ray charity - and it all started at Landaa Giraavaru.
Guy's work with manta rays now takes him all over the world, but to him, the Maldives will always be the best place to see and study these amazing animals. And with The Manta Trust running its own "Researcher for a Day" experiences at Landaa Giraavaru and all-inclusive trips on board Explorer, guests are similarly able to immerse themselves completely in The Trust's thrilling research and conservation efforts.