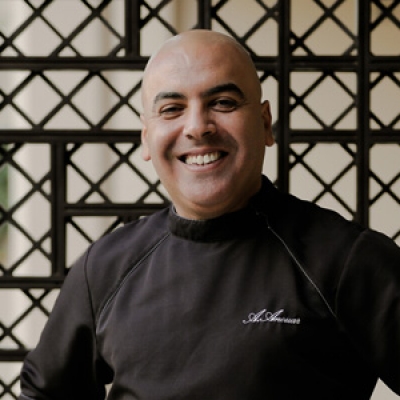 Anour Ait Abdelaali
Executive Pastry Chef
"For me, the three main ingredients in pastry are: love, passion and flavours."
Four Seasons Tenure
Employment History
Gapi Villa, Casablanca; Taj Palace, Marrakech; Hotel Amanjena, Marrakech; Riad Mogador, Essaouira; various training in different establishments in Marrakech
Birthplace
Education
Certicate from Gastronomy School Bellouet Conseil, Paris, France; additional diploma from Institut Supérieure de l'Hôtellerie et de la Restauration, Marrakech, Morocco
Languages Spoken
Arabic, English and French
Anour Ait Abdelaali is the Executive Pastry Chef of Four Seasons Resort Marrakech. Growing up in Morocco, an environment highly involved in the making of sweets and pastries, Anouar quickly became passionate in developing his keen sense of baking. After graduating in 2000 from the Higher Institute of Hospitality & Restoration Industry in Marrakech, Anouar acquired additional experience from his numerous internships in France, Switzerland and Morocco. Such an international experience allowed him to work with renowned pastry chef M. Philippe Guignard and in various establishments such as the iconic Mamounia hotel.
Anouar's first employment was in 2003 for Amanjena, a five star hotel in Marrakech where he was appointed as a pastry commis. After a few years only, Anouar's unique expertise in pastry making qualified him to be given the role of pastry chef within the same establishment. His desire to broaden his views within different hotels pushed him to work as an executive chef both at the Taj Palace Marrakech and at Gapi Villa in Casablanca.
His passion for the artistic fields, such as painting, has had a clear reflection in his daily pastry creations. Everything is lengthily well thought out, drawn and then made on several attempts. His previous experience in a high-end patisserie allowed him to be even more meticulous in his work and gave him the opportunity to become familiar with different techniques leading him to master the esthetic of any pastries.
Since June 2017, Anouar is officially the pastry chef of Four Seasons Resort Marrakech. Full of rigor and creativity, Anouar has developed his own cooking style: he loves playing with texture, colour and taste as he would do on a canvas. Anouar is also highly involved in the creation of pastries in which he tries new dessert recipes by combining different flavours and powerful ingredients.
His thrill comes when he presents his final creations to his guests, hoping it would render them speechless and inspired similarly as they would be in front of a masterful art piece.