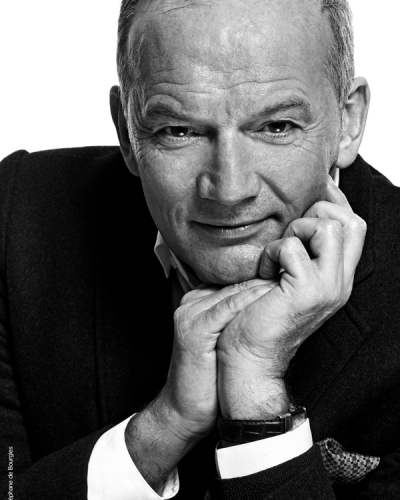 Christian Le Squer
Executive Chef
"It is better to be a good chef who lasts than a celebrity chef of the moment."
Four Seasons Tenure
Since 2014
First Four Seasons Position: Current
Employment History
Birthplace
Morbihan, Brittany, France
Languages
There are few restaurants more Parisian than the one Christian Le Squer led before joining Four Seasons Hotel George V, Paris. So why would this self-described "real Parisian at heart" move on to the famed palace hotel from Pavillon Ledoyen, where he was awarded three Michelin stars for twelve consecutive years? "To make the George V even more Parisian," says Le Squer, who was appointed Executive Chef in October 2014. "If you want to dine international, there are many places to do it in the city. What we do here at Le Cinq is Parisian, and we do it very well."
There was more to Le Squer's move to Four Seasons, of course. He was "very honoured," he says, to join "the long line of very big chefs" that turned the George V into a destination for French haute cuisine. Even more, he continues, was the opportunity to move to an international stage. "At Pavillon Ledoyen, we had no public relations at all. Here, there is a new way of communicating our passion. I love speaking with journalists, and being able to get word out about what we create is very gratifying."
What Le Squer creates is "the art of eating French style." He draws from the local tradition of le cuisine bourgeois – that is, cuisine as it was prepared for families by private chefs – as well as the myriad regional influences – from the coast of his native Brittany to the south of France – that shape culinary offerings and delight palates across the city.
Described eloquently by the Michelin Guide as a "composer of tastes," Le Squer reinterprets traditional French dishes with lighter, softer and more refreshing touches preferred by contemporary diners. Like a perfumer or a couturier, he fashions flavours that linger long in the mouth, piecing together signature dishes that combine tastes, textures and colours – such as Transparency of Ginger, Campari and Orange; Essence of the Sea with scallop au naturel with iced tarama; and gratinated onions à la Parisian that burst with soup at the touch of a spoon – to evoke "unexpected sensations."
Combined with the striking tableware, stunning floral sculptures, and exquisite grey-and-gold colour scheme of Le Cinq, the result is a thoroughly Parisian dining experience, indeed.  
Though his menus could be categorized as seasonal, Le Squer prefers to describe them as "moving," as in "when an ingredient is no longer available at peak quality, I move on to something new." He has also brought a refreshing openness to the kitchen, based upon his belief that anyone, "even an 18-year-old who is two months into his or her first job," can contribute creatively to the cuisine. He likes to enable, challenge and motivate his team, encouraging chefs to shop and dine out in the city, the better to spot or even launch new culinary trends.
Similarly, Le Squer believes strongly in research and development, assigning team members to explore new culinary directions, techniques and flavours that originate from his own ideas. Everything that comes out of his kitchen is tasted and meticulously calculated, while dishes – even those that seem simple in appearance – require rigorous work and precision to come together on the plate. In the end, nothing is superfluous and everything has its place.
Le Squer wasn't drawn to the culinary world by anyone or thing in particular. Rather, he says, he just loves to eat, "and I absolutely love French cuisine." The tastes he recalls from his youth along the coast of Brittany often find their way onto his menus: line-finished sea bass with caviar and fermented milk, for instance, is highlighted as "from my childhood" at Le Cinq, and he describes ham and cepe mushrooms with spaghetti as "an almost childish dish that I enjoyed as a kid" – albeit now dressed up to the hilt for the Four Seasons crowd. His goal, he continues, is to create dishes that "get emotions going so that guests feel the love that I have for what I create." Just like maman would to do.
Similarly, there is no one thing about life in Paris that inspires him, but everything. Beyond obvious things like fashion and art, Le Squer is moved by the "everyday life" he spies while walking the streets of the city. "I pay attention to all details, everything I see," he says.
Spoken like a true Parisian.