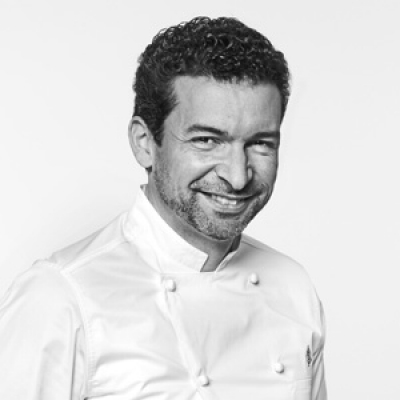 Guillaume Cabrol
Head Baker
Four Seasons Tenure
Since 2021
First Four Seasons Assignment: current
Employment History
Hôtel Plaza Athénée, Paris
Birthplace
Languages Spoken
Having graduated from the Academy of Dramatic Arts, Guillaume Cabrol began his career as an actor. Following a brief spell on stage, at the age of 25 he decided to follow his heart and his career made a u-turn. He began working as a baker, a profession he had fallen in love with ten years earlier but that he had not mustered the courage to pursue.
Courageous and determined, Guillaume decided to embrace a major career transition and returned to studying. He acquired a diploma in pastry, ice cream, chocolate and confectionary making. He first worked as a junior chef, and later as pastry chef, in a small family-run bakery in the southeast of France that kindled a passion for the art of bread making. Eager to learn more, Guillaume enrolled in a bread making course.
Guillaume stood out among his peers for his formidable dexterity and desire to produce exceptional quality bread. Dedicated and hardworking, he completed the course with flying colours and joined the team of three Michelin-starred restaurant Alain Ducasse au Plaza Athénée as head baker. He was subsequently charged with overseeing and directing all pastry aspects of the kitchen operation. During his time at the restaurant, he met Michaël Bartocetti, with whom he quickly forged a strong relationship. Their paths would later join again.
In October 2021, Guillaume joined Four Seasons Hotel George V, Paris as Head Baker. He works alongside Michaël Bartocetti – now the Hotel's Executive Pastry Chef – to create sweet delights for all the Hotel's Michelin starred restaurants, while also overseeing the Room Service and Banqueting pastry operation.
A truly talented chef, Guillame is a humble perfectionist charged with sensitivity and commitment to crafting outstanding bespoke creations. Guillaume pays particular attention to his ingredients, working closely with small producers and farms with a sustainable approach.
"I am very happy to be part of the team of Four Seasons Hotel George V, Paris. I am thrilled to be working again with Pastry Chef Michaël Bartocetti, whose talent and creativity both move and inspire me. By combining our two culinary worlds, we are able to bring flair and innovation to our gourmet selection of breads and pastries."