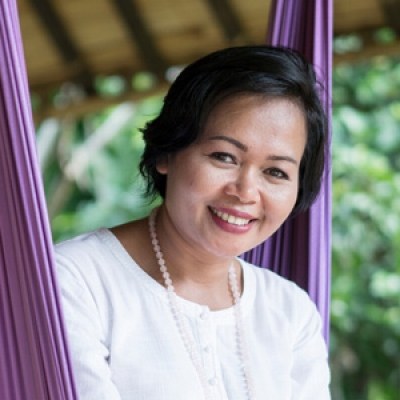 Ibu Heny Ferawati
Resident Wellness Mentor
"The more we understand the nature of our own mind, the more we develop in wisdom, and the more we discover the source of happiness."
Four Seasons Tenure
Since 2014
First Four Seasons Assignment: Current
Employment History
Heavenly Spa, The Westin Resort Nusa Dua, Bali; Le Spa, Keraton Jimbaran Resort & Spa, Bali; Bhavana Buddhist Meditation Retreat Centre, Bali
Birthplace
Education
Meditation Training and Buddhist Studies at Panditarama Forest Centre, Burma & Sathira Dhammasathan, Bangkok
Languages
English and Indonesian; conversational Mandarin, Cantonese and Burmese
As a small child, Ibu Heny Ferawati, known as Ibu Fera, eschewed playing with others in favour of savouring the peace of Buddhist monasteries. But it wasn't until she was 26, acting, quite by surprise, as a translator for a Canadian monk on a Vipassana Meditation Retreat in Java, that she discovered her true calling. Inspired by the health and wellness benefits of a life lived mindfully, she undertook her first silent meditation retreat and her path was set.
Her strong intention to delve deeper into the practice and learn the philosophy of life prompted a dramatic decision to ordain as a Buddhist nun in Myanmar. Following an intensive 18-month retreat, she commenced an incredible journey of study around monasteries and meditation centres throughout Asia to widen her knowledge and deepen her monastic training.
Ibu Fera believes her experiences as a nun were the most deeply transformative in her life, enabling her to actualize her wish to attain her own happiness through guiding and helping others. At the Sacred River Spa at Four Seasons Resort Bali at Sayan, she has found a way not only to make her wish come true, but to do so in her favourite place, Ubud, where she believes "the energy is unique and supportive, enabling everyone to explore themselves in a spiritual way."
Ibu Fera works with guests to create individual wellness programs, sharing many techniques to approach a life lived mindfully and with a loving heart. Through the practice of various kinds of meditation and "life talks," she passionately – as listener and facilitator – points out different angles of perspective to enable guests to overcome the ups and downs of their own daily grind.
"Meditation is not about trying to stop the thinking mind," she explains, "but to understand the nature of body and mind, to develop wisdom, to learn respect and love for oneself wholeheartedly, helping us to become both our own master and our own best friend."
Proficient in everything from massage and philosophical discussion to guidance for chanting Dharma, Ibu Fera likes nothing more that practicing mindfulness and meditation with guests, enabling them "to continue taking care of themselves happily and peacefully when they return home." Souvenirs don't get much more profound than that.