Back to Main
Four Seasons Resort Sharm El Sheikh, Egypt
1 Four Seasons Boulevard, P.O. Box 203, Sharm El Sheikh, South Sinai, Egypt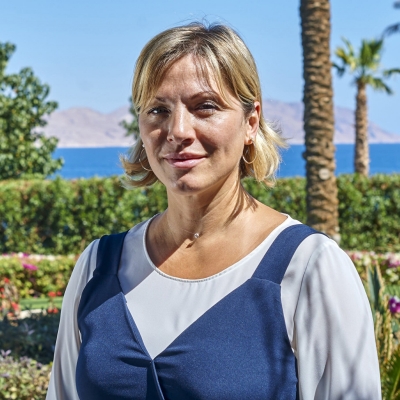 Ina Iordachescu
Spa Director
"Everyone has the same desire to relax and unwind and that is our gift to our guests."
Four Seasons Tenure
First hired 2008, now since 2021
First Four Seasons Assignment: Spa Administrator, Four Seasons Hotel Damascus (formerly a Four Seasons hotel)
Employment History
Kairaba Alaçati Beach Resort & Spa, Alaçati, Turkey; Freelance Spa Consulting; Native Group Barista's Coffee & Bakery, Chisinau, Moldova; Double Tree by Hilton Almaty, Kazakhstan; Rixos Hotels, Kazakhstan; Divan Hotel, Erbil, Kurdistan, Iraq; Dedeman Hotels & Resorts, Erbil, Kurdistan, Iraq; Dedeman Hotels & Resorts, Istanbul, Turkey; Dedeman Hotels & Resorts, Damascus, Syria; Four Seasons Hotel Damascus (formerly a Four Seasons hotel)
Education
Master's Degree, Hospitality Administration/Management, Moldova Hotel Services and Tourism University
Birthplace
Languages Spoken
English, Russian, Romanian, Turkish, Arabic
"I believe in the power of emotions and in experiences that grow the soul," says Ina Iordachescu, explaining that though indulgent service lies at the heart of the operation she oversees as Spa Director of Four Seasons Resort Sharm El Sheikh, it's not the main focus. "Everyone has the same desire to relax and unwind and that is our gift to our guests."
With years of experience leading hotel spas in the Middle East and Central Asia, Iordachescu has long recognised that clients looking to be pampered also desire harmony, and now more than ever means focusing on wellness. The Spa has a host of inviting elements, combining generous comforts, Arabian décor, and gorgeous views of the glistening waters of the Red Sea with ancient Egyptian-inspired rituals, results-driven therapies, and programming such as yoga and personal training designed to reduce stress and balance the body and mind.
Her creative input is also a product of her experience. "I have collected many techniques that we use as tools to take treatments to the next level," she says. The signature Egyptian Masterpiece treatment, which plays out over 140 minutes, for instance, offers the ultimate in pampering for guests starting with a relaxing bath, followed by a brown sugar scrub to naturally exfoliate and soften the skin. Then comes a Pharaonic massage using the same scents for which Egyptians were renowned in the ancient world, and a deeply hydrating hair treatment with jojoba oil.
A Spa is only as good as its team of course. Iordachescu oversees all hiring and training with the goal of growing the skills of even the most experienced therapists. Some of them have followed her from hotel to hotel. "I'm a teacher and a mother," she says, matter-of-factly as well as metaphorically, noting that her management style is as much about nurturing talent as directing operations. "I like to personally observe the operations team to ensure a seamless guest experience. But I'm also there to advance them with guidance and education that will help their careers."
Iordachescu had no thoughts of working in spas or hospitality until she headed to Syria to renew her passport. "I was a blind kitten without a plan," she remembers, colourfully. She stayed with friends, and one recommended that she reach out to the property Four Seasons was managing in Damascus. She liked the idea, hoping to follow the lead of a friend who worked as a housekeeping director at a hotel and had independence to show for it.
"My idea was to join the rooms division and learn about the hospitality industry from within," she remembers. Four Seasons had other needs, however, and offered her an opportunity as a Spa Administrator. No problem: "I fell in love with it from the very first day."
After a year with Four Seasons, Iordachescu moved on to other hotel spas and up in management, learning the ins and outs of operations, guest relations, and how to put her own stamp on treatment menus and services. Her skills grew tremendously while she earned the security she and her child required.
Eventually, she longed to return to Four Seasons, "The only company I've work at that delivers on the brand promise; to honour, respect and reward its employees."  When the Sharm El Sheikh property sought to recruit someone to oversee its Spa, newly broadened through a property-wide expansion, with 14 treatment rooms, a two-storey gym, and an outdoor lap pool and Jacuzzi, Iordachescu found her way back.   
"It's wonderful here," she says with a satisfied sigh, riffing on the beauty of the Resort's seaside location. "With the mystical corals right offshore, we have the freshest air in the world, and so many ways for guests to enjoy their stay with us and leave feeling renewed."
Active in sports and recreation, Iordachescu says she likes to make time for herself away from the resort. "My big passions are swimming and singing, and I love karaoke when I get the chance," she says. "I have a good voice, to be honest, and jazz is a great way to express myself."