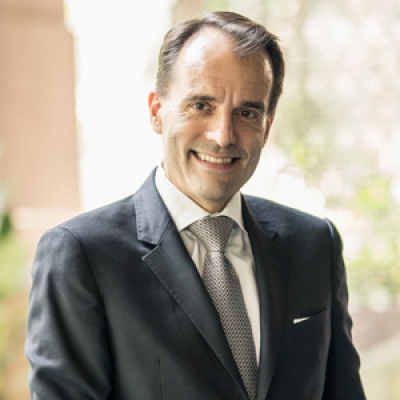 Peter C. Draminsky
Regional Vice President and General Manager
"Invest in people if you truly want to make a difference. Make time, invest resources, applaud and coach. The rest will take care of itself."
Four Seasons Tenure
Since 2005
First Four Seasons Assignment: Director of Food & Beverage, Pre-Opening Team, Four Seasons Hong Kong
Employment History
Regent Singapore (formerly a Four Seasons hotel); Four Seasons Hotel Hangzhou at West Lake; Four Seasons Hotel Hong Kong
Birthplace
Education
Bachelor of Arts, International Hotel and Catering Management, London Metropolitan University
Languages Spoken
Welcome down the street! was the first greeting Peter C. Draminsky received as he stepped into Four Seasons Hotel Singapore the first day of January 2019 as Regional Vice President and General Manager. A familiar face, Draminsky was for almost four years General Manager at Regent Singapore (a former Four Seasons hotel) a mere five-minute stroll away.
Draminsky employs a "team-centric" management style that has served him well over the years with Four Seasons. From a guest perspective, he understands the evolving travel expectations and purposes, and is constantly on the look-out for creative ideas to enable guests to experience the beautiful Garden City, from the Hotel's amenities and services to culinary offerings.
On the staff front, Draminsky believes in celebrating and empowering team members. "Appreciating and celebrating the team motivates everyone intrinsically and spurs us to want to be even better than yesterday. There continues to be an ever-increasing number of accommodation options for guests when visiting the Garden City, Singapore. Yet, we have welcomed home many who stay with us time and time again because of the authentic interactions they have formed during their time with us. This is success to me."
Draminsky, an avid sportsman, continues his tenure along with his wife and lovely daughters in Singapore, a dynamic city state famed for its Garden in a City urban landscape, home to 5.6 million residents. A significant entrepôt along the ancient Spice Route and Silk Road, the island state is widely heralded as a modern day miracle, having evolved from a sleepy fishing village to one of the world's fastest-growing economies.
The Four Seasons motto - the Golden Rule - resonates profoundly with Draminsky so much that he has taken it as his personal mantra. "The Golden Rule, to me, aligns everyone onto the same plane. It helps us to see each team member as an equal contributor to the success of the business and more importantly, that we see and relate to one another as unique personalities and individuals."