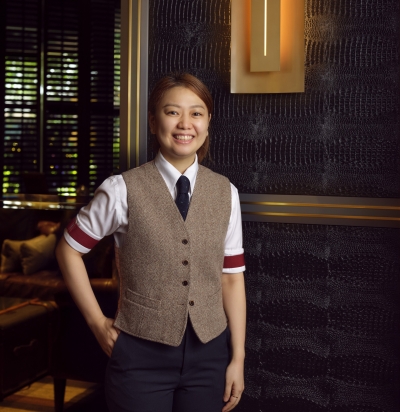 Sophia Kang
Head Bartender
"Don't wait for the right opportunity. Create it."
Four Seasons Tenure
Since 2013
First Four Seasons Assignment: Basilico at Regent Singapore (formerly a Four Seasons hotel)
Employment History
Manhattan Bar at Regent Singapore (formerly a Four Seasons hotel); Basilico at Regent Singapore (formerly a Four Seasons hotel)
Education
Baewha Women's University, Seoul
Birthplace
Languages Spoken
Sophia was introduced to the vibrant bar scene as part of Manhattan Bar's pre-opening team back in 2014 at Regent Singapore (formerly a Four Seasons hotel). Piqued by the art and magic of bartending, she seized the opportunity to train as a bartender while juggling her role as a service staff member at Manhattan.
Not one to be easily deterred, she faced uphill challenges with determination and passion to perfect her craft. This tenacity and passion continues to propel her up the ranks as she took over the position of Head Bartender from her mentor, Cedric Mendoza, and she became the first and only female bartender in the World's 50 Best Bars #15 and Asia's 50 Best Bars #6. Sophia now heads up One-Ninety Bar as Head Bartender at Four Seasons Hotel Singapore.
A familiar face in the local and international bar community, Sophia participated in several regional competitions and seminars, as well as numerous guest shifts at renowned bars around the world.
When she is not shaking things up behind the bar, Sophia enjoys travelling, catching up on Korean and American dramas, and hunting down new coffee and drink spots with her friends. Her favourite must-have cocktail is a good old-fashioned Whiskey Sour – simple, sophisticated, and with an edgy sharpness – an apt reflection of her personality.