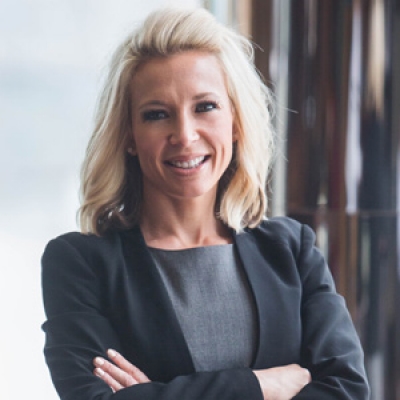 Erin Stewart
Spa Director
"Spas are living, breathing and ever changing. It is important for us to meet the needs of our clients as well as to attract new ones. We do that by being innovative and offering a level of attention they can't get anywhere else."
Four Seasons Tenure
Since 2016
First Four Seasons Assignment: Current
Employment History
Isagenix, St. Louis; Orangetheory Fitness, Ellisville, Missouri; Omni Scottsdale Resort & Spa at Montelucia, Paradise Valley, Arizona; InterContinental Montelucia Resort & Spa, Paradise Valley, Arizona; Canyon Falls Salon & Spa, Scottsdale, Arizona
Birthplace
Education
Attended Milligan College, Johnson City, Tennessee; Tulsa Community College, Oklahoma; Oklahoma Central University, Edmond
Languages Spoken
"There was nowhere else I wanted to be in this city." That's Erin Stewart on keeping her eyes on the prize and then landing it as Spa Director of Four Seasons Hotel St. Louis. A transplant from the desert southwest where she most recently led a Moroccan-themed resort spa, Stewart brought Midwestern roots, a talent for numbers, and a record of success to one of the Gateway City's top spa experiences. "I love our programming and everything about it here."
Clean-lined, airy and soothing on the eyes, the urban oasis is set on the Hotel's seventh floor, with wraparound windows providing ample sunlight, moonlight and cool city views. There are 12,000 square feet (1,100 square metres) and 12 treatment rooms to go around, including a couple's suite with a eucalyptus-scented steam room. Two gender-specific steam rooms are outfitted with hot tubs of their own, and the Spa's co-ed relaxation suite has a pool and panoramic views of the Gateway Arch and the Mississippi River.
Upon her appointment in fall 2016, Stewart set her eyes on the treatment menu and her goal of working collaboratively with the Spa team – "they're closer to the clients than anybody" – toward developing new treatments and adding new product lines. She is quite keen on staying on top of the latest trends in the spa industry, as well as on shifts in the Spa's customer base. "Spas are living, breathing and ever changing," she says. "It is important for us to meet the needs of our clients as well as to attract new ones. We do that by being innovative and offering a level of attention they can't get anywhere else than at Four Seasons."
"We go to great lengths to meet or surpass expectations on the back end, but the only way to do that is assure everything is run precisely on the front end," she continues, noting marketing, accounting and training as prime among the many responsibilities at which a spa director must excel.
Stewart is most excited to establish top-of-mind awareness that The Spa at Four Seasons is the premier spa in the region – an escape from the hustle and bustle of a busy city. "For locals and visitors alike, I have my eye on innovation, leading with seasonal treatments that incorporate local products as much as possible. Working with local products is important to me, as I know the value of giving back to the community."
An Oklahoma native, Stewart grew up wanting to be a hair stylist. She attended cosmetology school and landed a spot behind a chair at a salon, an experience she recalls as "up and down." "I was the perfectionist; if I saw something wrong I had to fix it, so the most discerning clientele always came to me," she remembers with a laugh. "I enjoyed getting to know my clients."
In 2006, Stewart was offered a spot managing a spa and salon in Scottsdale, Arizona and, a couple of years later, was on the management track at a nearby resort. When the resort changed management, she was promoted to spa director. "That was where I really learned the spa industry – I grew a lot in that role." The spa did pretty well under her management, too, achieving the #1 ranking in the state by Ranking Arizona during her second year.
St. Louis is different from Arizona, she says, but the needs of spa clients remain the same. Meanwhile, it didn't take long for Stewart to fall for Four Seasons standards and the company's style of management. "Four Seasons really promotes being pro-employee and making the team happy, and I'm very big on a happy work environment," she says. "It's never 'my way or the highway'. I like to communicate with the team and develop ideas in a collaborative environment."
When not busy overseeing the Spa and Salon, Stewart enjoys shopping in the city, especially perusing fashions at small boutiques. "Most of all, I love being with my husband, Blake and our two-and-a-half year old daughter, Leighton. We never run out of things to do together."